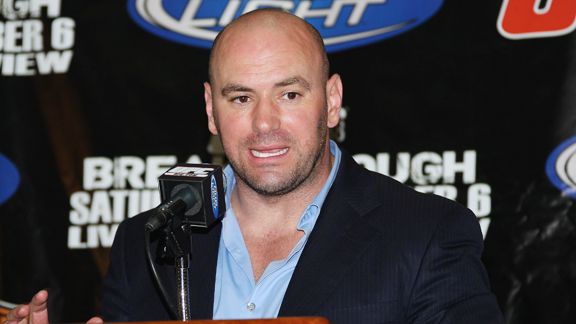 Scott Cunningham/Getty Images
When Dana White opens his mouth, the resulting sound might as well be cash registers ringing.
UFC president Dana White has a better understanding of media relations than virtually any sports personality alive. Beat writers want inflammatory quotes; White dishes them out. It's the reason he's such a pervasive presence, and it has helped make his brand synonymous with combat sports. Geniality is boring. Meltdowns create hits and move copy.
Tweet, tweet
Don't miss a moment of the latest MMA coverage from around the world. Follow us on Twitter and stay informed. Join »
This past Saturday's Strikeforce telecast is an open invitation to solicit White, because everyone involved knows what he'll get. It's approaching performance art.
"CBS made its biggest mistake partnering with a tiny, small show with a roster no one cares about," White told Yahoo! Sports on Wednesday. Wind him up and watch him go.
"Just because you read on MMA.tv that someone is a superstar doesn't make it true. This should prove that no one out there gives a [expletive] about Fedor."
White is referring to the roughly 5.5 million viewers who tuned in for the Fedor Emelianenko-Brett Rogers bout, a number that bests the 4.7 million who tuned in to see Anderson Silva embarrass James Irvin in the summer of 2008. And if you believe White went on to proclaim that "no one gives a [expletive] about Anderson Silva," you are an interesting person.
Thankfully, Yahoo! Sports' contributor left the recorder on: "If I hear any of you guys [sports writers] calling Fedor the best pound-for-pound, I'm going to go postal," White raved. "Do you think Brett Rogers would have lasted two minutes with Brock [Lesnar]? What do you think Cain Velasquez would do to him?"
What Velasquez would do to Rogers is speculation, but we know what Emelianenko would do to the guy who is about to fight Velasquez for the UFC's No. 1 contender's slot: Emelianenko punched a hole in Antonio Rodrigo Nogueira's head on three separate occasions. So either he's really a pretty good fighter or White must concede that he's granting title opportunities to washouts.
This could go on for days. Some purists are going to seize up at these comments, but a sizable number of fans with a more recreational interest take White at his word. Strikeforce really didn't need an Emelianenko. It needs a Dana White.