Because Saturday's network television broadcast of Strikeforce pre-empts "CSI: NY," we have, in a sense, already won. But event producers might not be satisfied with paving over the career of Skeet Ulrich: What they really want is to snag an appreciable share of the coveted 18-49 male demo, that segment of the population most likely to enjoy repeated punches to the head and advertisements for beef jerky.
To attract them, CBS and Strikeforce are hoping the monosyllabic Russian Fedor Emelianenko will outgrow his cult popularity among tape collectors to become a mass-audience draw. On their side: He's exciting, dangerous, and far less likely than Kimbo Slice to be knocked out by a man in a dress.
Working against them: He's a bit flabby, has never seen the inside of a tattoo shop, and comes from a country that once threatened us with nuclear decimation. (The last one is especially disturbing: Americans tend to root for the home team.)
Like Slice before him, Emelianenko appears to be gaining notoriety in the farm league known as YouTube. His fight with the giant Hong-man Choi has netted nearly 2.5 million views; versus Matt Lindland, 2 million. This is a far cry from a Slice video that grabbed 10 million hits; it's also, as popularity gauges go, pretty shaky. (But we live in a viral era. Beats phone surveys.)
People obviously care about this guy. Whether it's enough to satisfy network television standards is what we're about to find out.
What: "Strikeforce: Fedor versus Rogers," a 10-bout card hosted by the Sears Centre Arena in Hoffman Estates, Ill.
When: Saturday, Nov. 7, 9 p.m. ET.
Why you should care: Because Emelianenko is inarguably the best, most dominant heavyweight the sport has ever seen; because opponent Brett Rogers doesn't seem to care one bit about it; because Jake Shields looked ferocious in his first 185-pound bid; because Fabricio Werdum has a hell of a puzzle to solve in a fellow jiu-jitsu stylist who happens to be twice his size; and because mixed martial arts on the network that once employed Walter Cronkite is progress.
Fight of the night: Emelianenko-Rogers, both in status and styles, can't disappoint.
Sleeper fight of the night: Marloes Coenen and Roxanne Modafferi, who are likely to show off the women's division preference for competitive, fast-paced fights.
The confusing alterna-show of the weekend: Strikeforce Challengers Series, a minor-league event airing at 10 p.m. ET Friday on Showtime.
Hype quote of the show: "I never really was a Fedor fan. … I only watched the [Andrei] Arlovski-Fedor fight. … It's just another man to me." -- Rogers on life in a cave, to the OC Register
Five questions: Strikeforce edition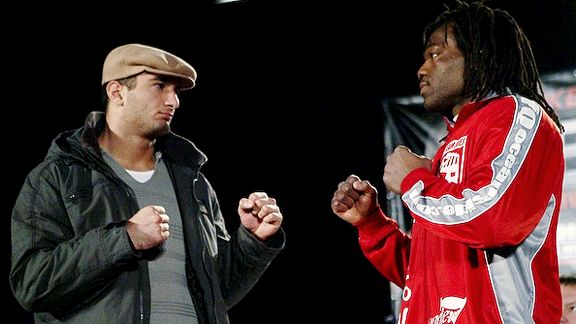 Sherdog.com
It's hard to imagine Rameau Sokoujdou, right, putting up much resistance against Gegard Mousasi.
Q: What happens to Brett Rogers on the ground?
A: Rogers is being given (slight) chances to beat Emelianenko based on his ability to punch a hole in concrete; little has been seen of him working the canvas, where Emelianenko is incredibly slick.
In Rogers' favor: Mark Hunt, a ground novice who clocked in near Rogers' 280-pound frame for his 2006 fight with Fedor, kept Emelianenko immobile for several minutes. But if all he can hope for is some brief control, it's less a shot at winning and more a stay of execution.
Q: What happens to Emelianenko on the feet?
A: A victory is a victory, but for several minutes against Andrei Arlovski, Emelianenko looked uneasy and ineffective. Rogers doesn't have the "clean" hands of Arlovski, but he's quick and can send you to the triage with one solid shot. Emelianenko can't afford to take that kind of pressure during a first-round warm-up.
Q: Is Gegard Mousasi wasting his time?
A: The manner and method in which Mousasi disarmed the durable Renato Sobral in August cemented the idea that the fighter could make as big a name for himself in the U.S. as he has in Japan. Fighting Rameau Sokoudjou, who has long since removed himself from top-10 status, would appear to be a step back; the judo player lost to Sobral earlier in the year, and his two most recent victories came against non-ambulatory bodies like Bob Sapp and Jan Nortje.
A: Mousasi-Mohammad Lawal bout would be interesting; Dan Henderson, if he signs, could rattle some people. Get past that and Strikeforce's 205-pound division wouldn't fill a phone booth.
Q: Will Jason Miller's MTV fans follow him to CBS?
A: Miller, who appropriately parades around with a megaphone as the host of MTV's deaf-and-dumb "Bully Beatdown" series, will contend for an interim 185-pound belt against Jake Shields on CBS. Strangely, there's been little attention paid to that built-in audience: If Jeff Probst had a prizefight scheduled, you'd think people would want to check it out.
Q: Can Antonio Silva establish himself as a reputable opponent for Emelianenko?
A: Before an unexpected knockout loss doled out by Eric Pele in 2006, Antonio Silva's combination of size, striking and jiu-jitsu had him earmarked as a serious problem for Emelianenko. While it's still the only blemish on his record, Silva has seen that talk die down in light of a positive steroid test in 2008 and a lack of high-profile opponents. Defeating the respected Fabricio Werdum on Saturday could help his case considerably, particularly if he impresses viewers biding time and burping nachos before the main event.
Red Ink: Emelianenko versus Rogers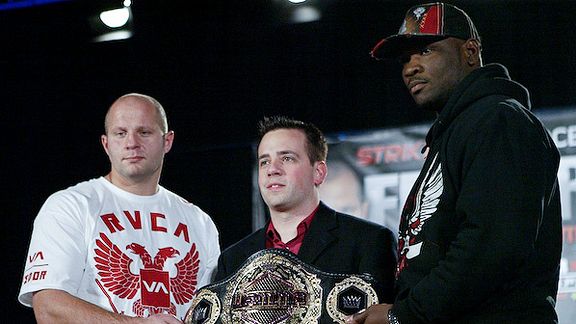 Jeff Sherwood for Sherdog.com
Fedor Emelianenko is all that stands between Brett Rogers and heavyweight supremacy.
The Walmart/Sam's C
lub monolith is known for stocking virtually everything anyone could possibly want: paper towels, dress socks and even coffins. And if you need someone to try to beat Fedor Emelianenko, they've got one of those, too.
Up until the spring, Brett Rogers was working in a Minnesota Sam's Club tire department, changing radials and likely getting a slight buzz from the stacks of rubber piled around him. Beating Andrei Arlovski in June has kept him from any job but training: At 10-0, he'll attempt to spin a heavy set of hands in his favor.
Emelianenko has been threatened with paper analysis before: Against the 6-foot-10 Tim Sylvia, he was expected to be eating jabs; against Mirko "Cro Cop" Filipovic, he was expected to be dazed by sharp, precise striking; against Antonio Nogueira, we thought he might be submitted.
The point is that Emelianenko has had answers for virtually every kind of style he's been matched against, and with few exceptions -- moments of humanity against Kazuyuki Fujita and Arlovski -- he's barely looked bothered doing it.
Before Arlovski, Rogers had faced fighters who would have had trouble headlining a King of the Cage event. He has only a fraction of Emelianenko's ring time and has displayed no indication of a rounded mixed martial arts game. Hitting exceptionally hard is valuable, but it takes you only so far. It got Rogers in this cage, but it might not be enough to get him out in the same shape.
Wild card: Emelianenko's debut in a caged fighting area: All 31 of his bouts have been contested in a ring. Against the ropes, you can lean your head back to evade strikes; you can also make life more difficult for wrestlers to trap you. There's no give to the fence.
Might look like: Emelianenko versus any number of hyperaggressive opponents, with Emelianenko refusing to let Rogers think about offense by beating him to the punch.
Who wins: Rogers could pull it off, but picking him isn't based on any statistical support. If he's in trouble on the feet, he won't fare any better on the ground; if Emelianenko finds himself losing a fistfight, he has other options. Emelianenko by submission.
Red Ink: Shields versus Miller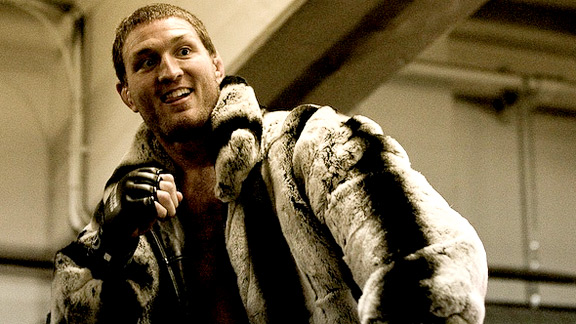 Sherdog.com
Don't be surprised if Jason Miller's scrap with Jake Shields steals fight of the night honors.
Most of Saturday's attention will be focused on Fedor Emelianenko, but the product of that hype may last less than a round: A middleweight contest between Jason Miller and Jake Shields could be the dominant "did you see?" Sunday talk of the event.
Shields, who has had virtually no problems at 170 pounds, moved up a class in June to submit the dangerous Robbie Lawler; Miller, while never dominant at either class, has a workman's ring ethic and typically forces fighters to put in their time. Taking two athletes who rarely bend and don't fall asleep in the guard tends to be worth the watch.
Wild card: Miller's guard: Shields will probably get him down, which means Miller's ability to contain or shut him down from his back will determine how his face looks after the fight.
Might look like: Shields versus Renato Verissimo, with Shields dropping air strikes down to an outmuscled jiu-jitsu player.
Who wins: Shields is going to have issues with some of the larger middleweights out there, but Miller isn't one of them. He can negate Miller's grappling for a decision.