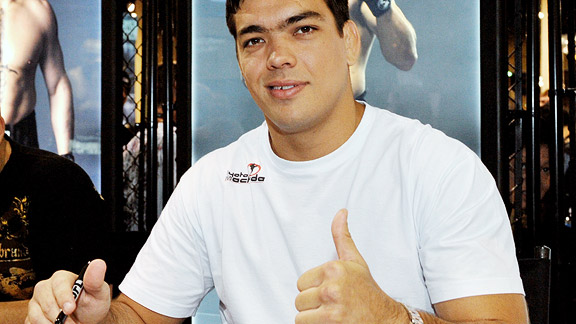 Jon Kopaloff/Getty Images
Big surprise: Lyoto Machida gives the judges' decision a thumbs-up.
The excellent Marcelo Alonso was first in the line to receive Lyoto Machida's comments regarding his controversial UFC 104 contest with Mauricio Rua. And it will surprise, shock and seize you to discover that Machida -- the winner -- believes the decision was justified.
"I had the opportunity to see the fight again and I thought I won four rounds and Shogun took the last one," he said. "Some people say he won the fourth and fifth round, but for sure I won at least the first three rounds. The American commentators were pretty much biased. If you see the fight without audio, you will probably see a different fight."
Machida added that he felt he was the one closer to ending the fight, having "put him in danger" multiple times during the 25 minutes Rua threatened him.
Unless a fighter is noticeably staggered (prior to the after party) it's virtually impossible for judges to take that into consideration. But if head strikes should count more than kicks or strikes to the body, the rules need to articulate that. An MMA town meeting is long overdue.