No amount of complaining, debate or controversy will change the fact that Lyoto Machida entered Staples Center as the light heavyweight champion and exited the same way during Saturday's UFC 104 event. He's 16-0, and only a positive drug test -- unlikely at best -- will change that. It is what it is.
Tweet, tweet
Don't miss a moment of the latest MMA coverage from around the world. Follow us on Twitter and stay informed. Join »
But the fight result tells an incomplete story: The "unanimous" decision for Machida doesn't apply if you count fan reaction, with many in the media and on the couch believing Mauricio "Shogun" Rua had edged him out. (I had the fight 49-47 for Rua, with a rare-but-allowable 10-10 first round and Rua taking all but the third.) Rua found a home for his kicks to the torso with increasing accuracy; Machida parried and landed with less frequency. Watch the entire fight over without trying to measure strikes and see how often Rua comes forward while Machida steps back. Aggression counts.
There was no "robbery" and Lee Murray was not seen fleeing the arena. Rua may have appeared to look better than he did because we've grown accustomed to Machida operating in complete control. Rua has a right to be upset, though: He should've woken up next to something beautiful and shiny Sunday morning.
Next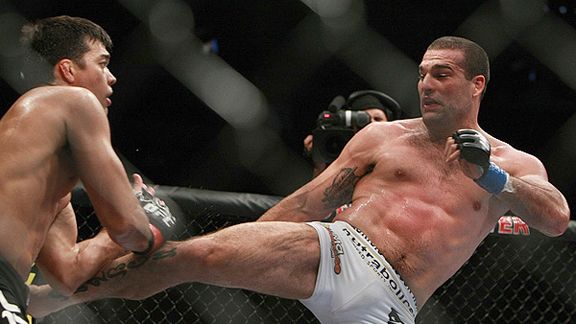 Dave Mandel for Sherdog.com
Mauricio Rua's aggressiveness should have counted for more in the judges' eyes.
Next for Machida: Rounds 6-10 with Rua.
Next for Rua: Rounds 6-10 with Machida.
Next for Cain Velasquez: A shot against the Brock Lesnar-Shane Carwin winner on Nov. 21. (If Carwin deserves his bid, so does Velasquez.)
Next for Ben Rothwell: A sponsor other than Extenze, and possibly Antoni Hardonk or Roy Nelson.
Next for Anthony Johnson: Stomach stapling. Paul Daley.
Awards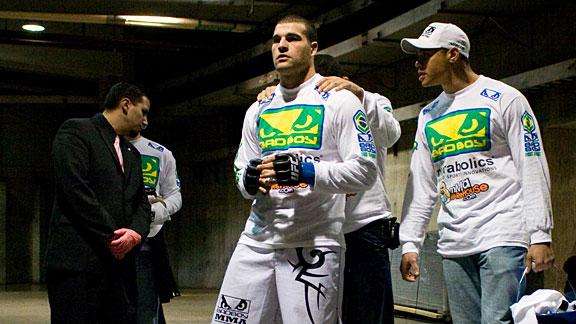 Josh Hedges/Zuffa/UFC
"Don't hold out, Mauricio. Show us that airplane move you do when you get hit in the stomach."
The-MRI-fund award: Eric "Red" Schafer, for taking a disturbing number of blows to the head -- and then fighting for 10 more minutes. No more Kazushi Sakuraba footage for you.
The zoom-zoom-airplane award: Mauricio Rua, for getting staggered by Machida and then making the body-language gesture for airplane wings. (It would've been better if he had made the propeller noises.)
The I-don't-care-about-the-camera award: Rua, for looking incredibly morose backstage after the bout, like a title had been stolen from him and an orphanage had just blown up.
The building-cannot-contain-this-much-mediocrity award: To Ashton Kutcher, Demi Moore and David Spade, some kind of unholy trinity responsible for movies I wouldn't watch in solitary confinement.
New questions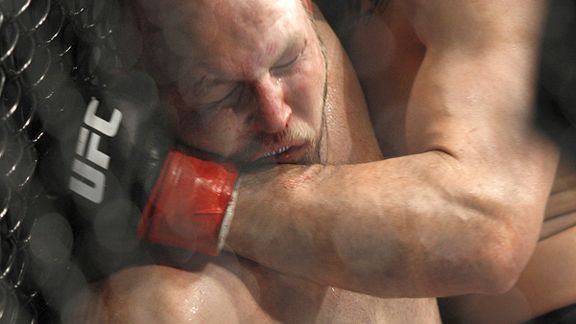 Ed Mulholland for ESPN.com
"Your striking is no good here, Ben Rothwell."
Q: Will the UFC get philanthropic about the Machida-Rua rematch?
A: The last time a main event was marred by questionable ruling, Ken Shamrock was forced to get his head thumped by Tito Ortiz a third time -- on free television. If the UFC is looking to tranquilize fans upset by the outcome, airing the rematch on Spike would do it. "Manswers" plugs are a small price to pay for closure.
Q: Do heavyweight strikers have a chance?
A: While a sizable number of athletes in lighter-weight classes can wrestle and kick with near-equal credibility, style versus style is very much a factor in the heavyweight division. Ben Rothwell was bulldozed by Cain Velasquez, a fate shared by Cheick Kongo; two grapplers -- Shane Carwin and Brock Lesnar -- are set to decide the titleholder in November. If heavyweights still operate in one dimension, we generally know what grapplers do with strikers: this division could begin to resemble the NCAA finals, and soon.
Q: Should Anthony Johnson's fight have been canceled?
A: Commissions normally make a one-pound allowance for nontitle affairs; Johnson weighed in at 176 for a 170-pound bout against Yoshiyuki Yoshida, which was a greater differential than it appears. If Johnson couldn't cut six pounds, he was straining his own credibility. Someone should have put him on a scale five minutes before the fight, just to rub it in. Victory via glycogen isn't that impressive.
Q: Does Cain Velasquez have power?
A: Beat a guy bad enough to take his wallet -- if he had one -- and it's still not enough for some observers who criticized Velasquez's inability to deliver definitive loss of consciousness to his opponents. (Ben Rothwell, alarmingly, could still stand up at the time of the stoppage.) A 240-pound man is going to be able to hit and hurt whatever he wants; but Velasquez, still just 7-0, may not have fully adapted to a style yet. Chuck Liddell won three fights in a row by decision before going on an 11-bout T/KO streak.
This and that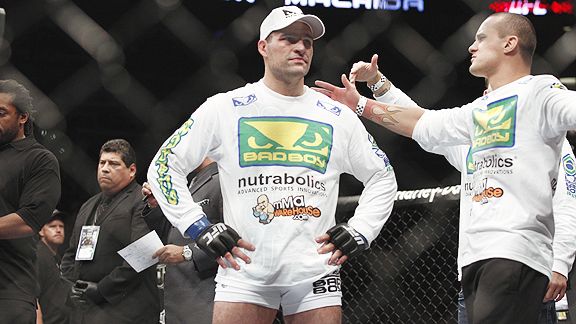 Ed Mullholland for ESPN.com
Mauricio Rua has no one to blame but himself (and maybe his corner) for losing to Lyoto Machida.
• During the postfight press conference, Mauricio Rua said his team had assured him he was winning the fight and he didn't feel the need to press the action. When you want objective scoring, maybe stay away from your own corner…
• No major media outlet on my radar scored the fight for Machida; athletes Twittering didn't express any support for the champion, either: Frank Trigg and Jorge Gurgel used the word "robbed." Strikeforce lightweight Josh Thomson voiced minority attitude: "Machida won. You have to beat the champ to be the champ." …
• Pat Barry knocked out $120,000 in bonus dough, taking $60,000 each for KO of the night and fight of the night against Antoni Hardonk …