In 2007, when Pride folded into the origami shape for failure, Mauricio "Shogun" Rua took his 16-2 record to the UFC, where he was expected to beat his chest atop a pile of corpses.
Instead, he was thoroughly battered by Forrest Griffin and barely eked out a win against a man 15 years his senior in Mark Coleman. Knocking out Chuck Liddell, the new statistical norm for that fighter, resulted in confidence that the "old 'Shogun'" had returned. It also resulted in a title shot. Not exactly a walk through the gates of fire, but OK.
I remain skeptical, mostly because "old 'Shogun'" is a nightmare of punctuation and I loathe typing it, but also because he has looked good for roughly five minutes of a 35-minute UFC career. Oddsmakers believe he has only a 33 percent chance of defeating Lyoto Machida, whose base style of karate should have given him only a 0.005 percent chance of success in the sport. So maybe odds aren't everything.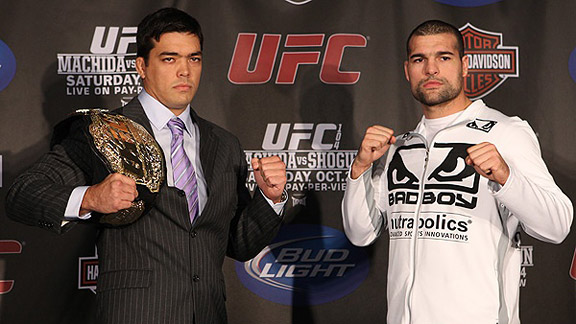 Dave Mendel/Sherdog.com
Lyoto Machida and Mauricio Rua won't have to look far to find each other Saturday.
What: UFC 104: Machida versus Shogun, an 11-bout card from the Staples Center in Los Angeles
When: Saturday, Oct. 24, at 10 p.m. ET on pay-per-view, with a live preliminary show airing on Spike at 9 p.m. ET.
Why you should care: Because Machida is the closest thing we have to a profound, peerless Martial Artist (capitalization intentional); because whether "Shogun" has found his old form or not, he will make it exciting; because Ben Rothwell is going to force Cain Velasquez to scramble and work like hell to overcome his size; because judo remains an underrepresented style in MMA and Yoshiyuki Yoshida can counter Anthony Johnson's stand-up with the highly technical ploy of dumping him on his head.
Fight of the night: Machida's unblemished record raises stakes for every second he's in the ring; Shogun will stay in his face.
Sleeper fight of the night: Joe Stevenson-Spencer Fisher: Three rounds of Fisher getting scooped up and then working overtime on the feet to compensate.
Pre-emptive complaint: Chael Sonnen-Yushin Okami might be a concentrated effort to keep blood pressure among viewers steady; Okami, talented as he is, makes Ricardo Arona look like Jet Li.
Hype quote of the show: "I just saw what he wrote about me, and I am going to punch him in the face for that, plain and simple." -- Fisher on Stevenson's verbal warfare. At least he's not in Fisher's head.
BAM (Back Against the Mat): UFC 104 Edition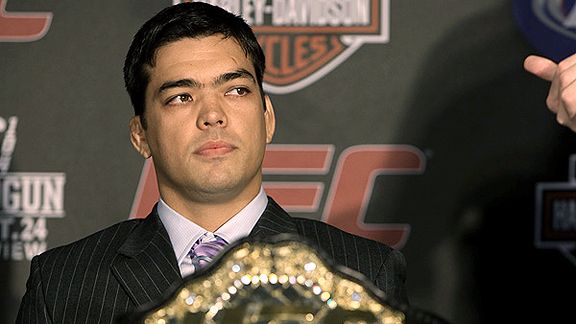 Sherdog.com
Defending his title and unblemished record will be added pressure for Lyoto Machida.
Guys with more to lose than just teeth.
Lyoto Machida: The 15-0 record is a pressure cooker -- without the "unbeatable" tag, would Machida's eccentric style be as captivating?
Joe Stevenson: A strong UFC start was sidetracked by the B.J. Penn loss; Stevenson is 2-2 since that bout. To flirt with the top of the ladder again, beating Spencer Fisher isn't optional.
Yushin Okami: On numbers alone, the 7-1 Octagon record should have earned Okami a title shot against Anderson Silva. Beating Chael Sonnen decisively could make him harder to ignore (although both fans and the promotion are doing solid work on that front).
"Saw VI": "Saw V" was the "Au Revoir Les Enfants" of movies featuring fake and displaced intestines. Expectations are high.
Five Questions: UFC 104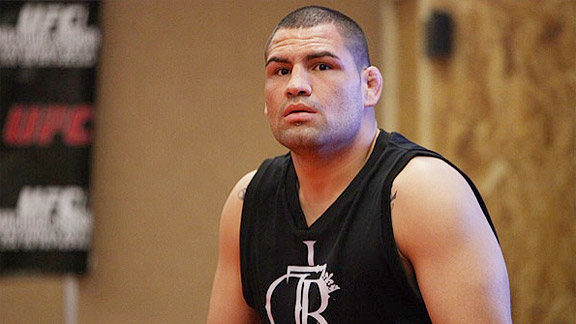 Dave Mandel /Sherdog.com
Will Cain Velasquez be biting off more than he can chew when he meets Ben Rothwell?
I don't have the answers. Watch the show.
Q: Is Muay Thai the right answer for Machida?
A: In 15 career fights, the UFC's light heavyweight champion -- or as pronounced by Machida himself, champeeon -- has rarely been tested by a high level of Muay Thai. Thiago Silva has good stand-up, but few wins against top opposition; Sam Greco, virtually a pure kickboxer, took Machida the distance in 2004, but also outweighed him considerably. There's not much precedent to draw on.
Rua is a Muay Thai Tasmanian devil -- all arms and legs. Aggression and accuracy could be a proper solution to Machida's head movement. So could a hammer. Rua can pick only one Saturday.
Q: Does Rua deserve his opportunity at a title?
A: A multiple-time felon of Pride -- suspected in several attacks on mismatched Japanese -- Rua has looked underwhelming in his UFC bid. A knockout over Chuck Liddell was a claimed return to form, but Liddell's descent is a poor marker of recovery. Has the lack of other deserving challengers created a fight that shouldn't really be happening?
Q: Is Cain Velasquez being brought up too quickly?
A: Talk of title shots and gym terrors makes Velasquez sound like a seasoned artist, but he's only six fights into a career that's expecting him to perform as if he's had 20. The inexperience showed against Cheick Kongo, who found his chin on multiple occasions. Ben Rothwell is a big test: hard to handle standing or grounded, and a fighter who has gotten into deep water against Andrei Arlovski and others without wilting early. Velasquez might very well be the next heavyweight champion -- but he could very well lose this fight.
Q: Is Anthony Johnson Georges St. Pierre's next problem?
A: Barren: One way to describe the UFC's welterweight division in the presence of St. Pierre, who has rendered virtually every contender demoralized. That's why fresh talent like Johnson makes for compelling television: Depending whom he fights and how he fights them, he could be shaping up to present problems for the champion -- particularly if he has some answers for the clinch and ties of Judoka Yoshiyuki Yoshida. (Staying upright against GSP improves your night substantially.)
Q: Are Spike's live preliminary broadcasts a risk?
A: Basic cable wafflers might be persuaded to order UFC 104 Saturday based on the quality of the preliminary fights offered during a one-hour special on Spike at 9 p.m. ET: Ryan Bader will take on Eric Schafer, and Antoni Hardonk will face Pat Barry. Good fights sell events, but a stinker -- a statistical possibility if every major event picks up this tactic -- could turn off fans who can't spell "Machida" without cheating.
Red Ink: Machida versus Rua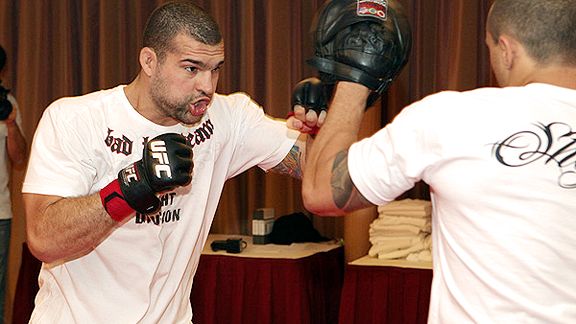 Sherdog.com
Should fight fans expect the old Shogun or an old Shogun come Saturday?
Machida fights two wars in Saturday's UFC 104 main event in Los Angeles: the war against Rua, and the war of perception that this Rua might not be the same one we remember.
Rua, once believed to be the most promising 205-pound athlete in the world, has looked human in recent outings against Mark Coleman and Forrest Griffin. He believes -- and fans believe --knee surgeries have corrected his cardio and aggression issues. What they might not correct is his tendency to take a punch in order to give one. In Machida's case, he's not open to a fair trade.
In Rua's favor: Machida's relative inexperience dealing with jiu-jitsu in live competition. Rua is not Rickson Gracie, but he's grades above Tito Ortiz, who sank in a triangle choke on Machida in 2008.
Might look like: Machida versus Thiago Silva, a snub-nosed striker swinging at air while Machida laughs quietly to himself and waits for an opportunity to resurrect 5,000 drafty karate schools around the country.
Third-party investor: Anderson Silva, who might be persuaded to fight Rua if pal Machida comes up short.
Who wins: I would love to be contrary and spin an elaborate scenario that results in Rua winning. But I can't. Someone will figure Machida out eventually, but Rua -- no master of the rigid game plan -- isn't the guy to do it. Machida by TKO.