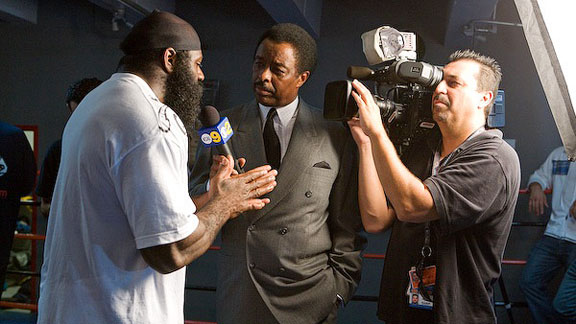 Esther Lin/Sherdog.com
News flash: Kimbo Slice stirs up interest in "The Ultimate Fighter" -- and even his opponents.
His talent may be in question, but his marketability isn't. And when the UFC negotiated an offer for Kimbo Slice to demote himself to "Ultimate Fighter" status, it shouldn't surprise anyone that there were a number of waivers in the contract.
Tweet, tweet
Don't miss a moment of the latest MMA coverage from around the world. Follow us on Twitter and stay informed. Join »
In addition to Dana White's admitting Slice's UFC deal would be "different" financially than any other contestant's, cast member Mike Wessel disclosed to Heavy.com that Slice's entourage was in attendance for the Roy Nelson fight.
"There was, like, three big black guys and what I was told was his wife," Wessel said of the taping. "They were like, 'Yeah, that's his wife and one of his sons, along with his posse. That's Icy Mike, his promoter and manager.'
"I was furious! Not at Kimbo, but at the Spike team for letting that happen. … Everyone has their own things going on, but because it's Kimbo, everyone wants to kiss his ass."
To drive the point home, Wessel explained that, like all cast members, he was not allowed to interact with family -- even though his wife was scheduled for cancer surgery.
Indefensible? Maybe, maybe not: I'd wager Wessel knew of his wife's ailment prior to joining the show, which means he made a conscious decision to remove himself from the role of moral supporter for that period of time. And it's hardly news that notoriety gets you special treatment: Slice brings more eyeballs to the show, which in turn makes everyone -- including Wessel -- more recognizable.