Someday, in his advanced age, Chael Sonnen will be pursuing a career in politics, real estate or possibly as a carnival barker. To entertain associates, he'll tell the story of how he once beat Anderson Silva, pound-for-pound the greatest fighter ever. Basically.
If Sonnen had kept his composure for just two more minutes Saturday, he would have been able to forget about the qualifiers and show off a belt. Instead, he fell victim to his regular vice: blissful misunderstanding of submission defense. He became so preoccupied delivering the last of CompuStrike's 289 counted total blows to Silva's head that he didn't notice Silva's long legs wrapping a noose around his neck. Two seconds of distraction amounts to 50 years of regret.
Sonnen will get plenty of notices for his performance, and he should; Silva will get plenty of flak for his, and it's a shame. Sonnen had the ability and attitude to completely shut down Silva, forcing him to find a way other than strikes to end the fight in his favor. Anderson took that and ran with it. It was more impressive than if Silva had blown him out in the opening minutes because Sonnen was able to display exactly how formidable a threat he was. It's a win with context.
Sonnen lost as respectably as you can. But it's still a loss. He had an advantage for 23 minutes and couldn't finish the fight. When Silva had the advantage for 10 seconds, he could. Who's the better fighter?
Next for Silva: Vitor Belfort, a radically different style matchup that promises to put more of Silva's beautiful striking on display.
Next for Sonnen: a fight with Wanderlei Silva to line up a post-Belfort opponent.
Next for Roy Nelson: He showed a chin but not much else against Junior dos Santos; slipping into gatekeeper status.
Next for Jon Fitch: Flipping a coin with Josh Koscheck to see who trains outside of AKA for their inevitable fight.
Next for Matt Hughes: A three-match with Dennis Hallman, who beat Ben Saunders on Saturday's undercard. (Hallman beat Hughes by submission -- twice -- early in their careers.)
New questions: UFC 117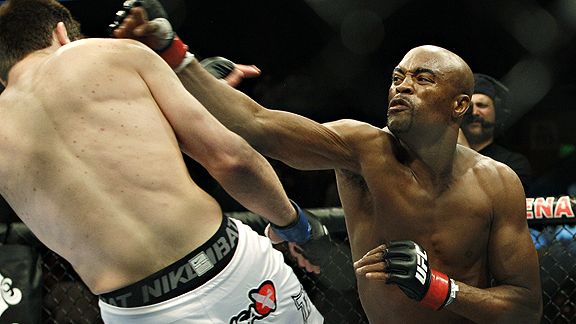 AP Photo/Jeff Chiu
No one questions Anderson Silva's striking ability, but his takedown defense is another matter.
Q: Has Silva's stock gone up or down?
A: Silva has a remarkable UFC achievement: twelve consecutive victories with nine finishes, including demolitions of highly durable fighters Dan Henderson, Nate Marquardt and a 205-pound Forrest Griffin. But in the what-have-you-done-lately climate of MMA, his struggle against Chael Sonnen on Saturday puts him back in the mere-mortal category: Sonnen put him through the tumble-dry cycle for nearly five rounds before getting submitted.
A win is a win, and Silva snagged it. But his problems with a wrestler undistracted by striking or unprepared with triangle defense could become an issue if he ever faces Georges St. Pierre or Jake Shields.
Q: What about Sonnen's stock?
A: We didn't learn a lot we didn't already know about Sonnen: His wrestling is superior, but his submission defense is a low wall to jump. There's value in dominating the consensus best fighter for 23 minutes, but not a whole lot in becoming a statistic in Silva's record victory stretch.
Sonnen promised to beat Silva up, and he did more or less exactly that, delivering more damage than Silva may have ever absorbed before. For a fighter used to escaping from fights largely unmarked, that might be worth bragging about. How much mileage that gets him as time goes on is another story entirely.
Q: Does Thiago Alves need to head to 185 pounds?
A: Alves, who missed weight by a half-pound Friday, is perhaps the most densely built welterweight in the division. While he clearly believes being so muscular is an advantage, it doesn't seem to be doing him many favors: He was fined 20 percent of his purse and looked flat against Jon Fitch, the likely result of a tortured and depleted body. Dana White recommended Alves move to 185 pounds, but the solution probably isn't to keep eating; it's to drop some of the muscle in order to make the weight cut more humane. Bowling-ball shoulders are impressive, but this isn't Mr. Olympia.
Q: Does dos Santos deserve a title opportunity?
A: Not soon enough. Dos Santos, 25, has reeled off a perfect 6-0 UFC record and failed to finish only Nelson. While that would appear to give him a confidence boost against either Brock Lesnar or Cain Velasquez, dos Santos has never faced a wrestler as aggressive or capable as either of them. He's earned it, but it may not take long in the cage before he realizes he doesn't want it.
Etc.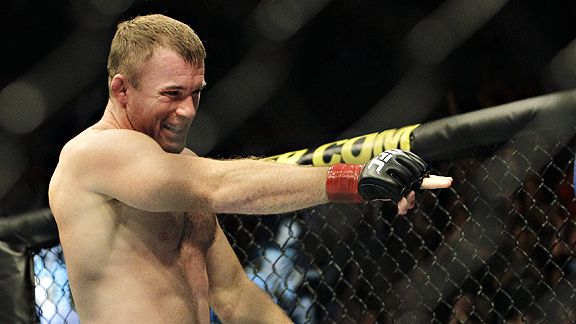 AP Photo/Jeff Chiu
Money in the bank: Matt Hughes' submission victory earned him a $60,000 bonus.
• Dana White was noncommittal during the postfight press conference on whether Sonnen would be given an immediate rematch with Silva: Belfort is in a position to challenge for the title, and it may be best to make that fight while Belfort is still on the map …
• Both Silva and Matt Hughes got an additional $60,000 for Submission of the Night since both were equally compelling: Silva pulled a win out late, while Hughes submitted a master jiu-jitsu artist in Ricardo Almeida. (Though to be fair, Hughes needed to scramble his brains with strikes first.)
• Hughes told journalists he plans on taking off the fall to hunt and return sometime in 2011.
• Dana White told MMAJunkie.com he might not necessarily grant Jon Fitch a title shot following his win over a swollen Thiago Alves. Fitch deserves it, but the real issue is Georges St. Pierre getting stuck with rematches over fighters he's already bowled over. Time to start eating, Georges.