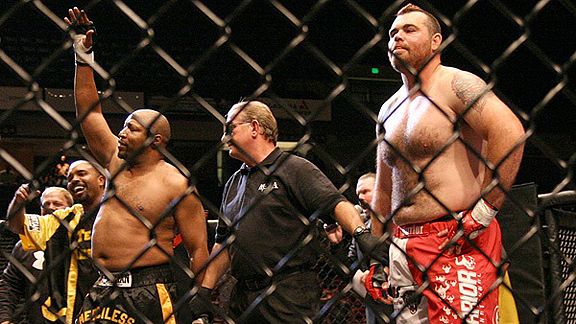 Fred Beeson/Sherdog.com
"Thanks, Tim. Let's do it again sometime."
There will always be a special footnote in the history of this sport for "Merciless" Ray Mercer, who did a lot of fans -- boxing and non -- proud by bucking ageism and a near-total lack of mixed-fight skills to clock Tim Sylvia silly in an MMA bout earlier this year.
And if you believe Mercer, he offered to do it again.
"I'd rather box, but I would do either," he told Eastside Boxing on his combat sports preferences. "I'd like another name from MMA to step forward. I even offered Sylvia a rematch, but he wasn't interested -- he wanted no part of Ray Mercer! I hope someone else will step up 'cause this boxing versus MMA thing is pretty hot right now."
If Mercer is having trouble locating fights, it may be -- as interviewer James Slater proposed -- that there's not much upside in fighting him. Lose to a 48-year-old boxer and you become as popular a viral video as LOL Cats; choke him out and people will treat you like you just beat a hospice patient.
In MMA, Mercer's best role is probably as a regional attraction against the Tank Abbotts of the world. But he probably wouldn't like the pay.