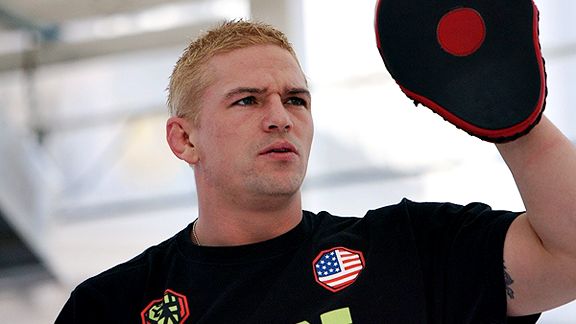 Dave Mandel/Sherdog.com
Shawn Tompkins' respected cage acumen is no longer at the disposal of Randy Couture's clients.
Look at fight footage from the past several years and you'll notice a recurring presence in the background behind several winning, beaming faces: Shawn Tompkins, the Xtreme Couture Mixed Martial Arts trainer whose fight IQ helped shape that Las Vegas brand into a Mecca for top athletes.
As reported by 5thRound.com, Tompkins is packing up his things and heading down the street to help establish a Tapout-branded gym. There's no word on whether the split from the Randy Couture-headed organization is amicable or not, but if Tompkins has engendered any loyalty among names such as Vitor Belfort, Gina Carano, Tyson Griffin and Forrest Griffin, he'll be bringing with him an immediate foundation for Tapout to build a sweat brand on -- although it's probably only a matter of time before Griffin and Carano open their own franchises.