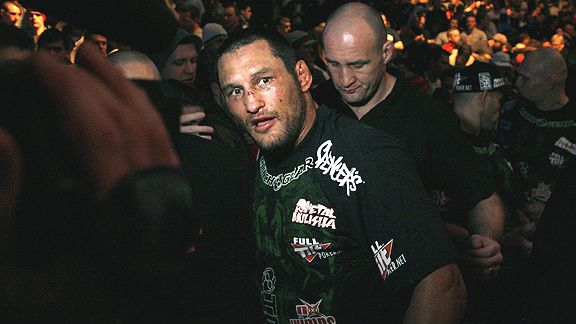 AP Photo/Peter Morrison
Dan Henderon can fight, but moving tickets has been another story.
In at least one aspect, Dan Henderson is a priceless commodity: He's one of the few men to debut in 1997 that's still relevant today. A dozen years logged in any sport is an admirable feat. And so Henderson is thinking maybe the UFC needs to deliver a large sum of cash by way of appreciation.
Henderson's contract with the promotion ended at the final bell of the Michael Bisping fight; after being led to believe he was next in line for Anderson Silva's title, Henderson found himself shuffled over to face Nate Marquardt while Vitor Belfort stepped over both. It might be enough to make a guy feel jilted -- and money has a way of saying "sorry."
Henderson didn't reveal how much he was asking for, but it's certainly a raise from the $250,000 purse he netted (not including a knockout bonus) for the Bisping fight. With pay-per-view royalties factored in, a number of UFC headliners can bank seven figure paydays. It sounds like Henderson wants his black AmEx, too.
Is he worth it? Henderson has long been the blue-collar competitor: No flash, no ego; just a savage right hand and a willingness to fight anyone from middleweights to heavyweights. There's financial reward in consistently winning, but the money Henderson is asking for might be reserved for athletes who win and sell tickets. I'm not sure there's proof he's a big draw: Bouts with Anderson Silva and Rich Franklin were alleged to be among the least profitable on pay television in recent memory.
If Henderson wants to be paid, maybe he should consider attacking a plywood door.