The biggest box-office fight that never transpired will always be Mike Tyson in a mixed martial arts contest. Post-1997, the public perception was that he belonged in a cage anyway. This is a promotion that pretty much writes itself.
[+] Enlarge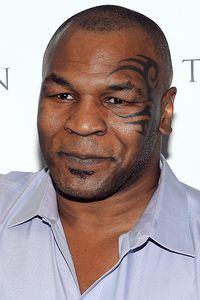 AP Photo/Evan Agostini
Watch your back, Joe Rogan: Mike Tyson as MMA commentator could work.
It will never happen, obviously: Tyson told "Center Stage" on the MSG network a few months ago that someone was about to hand him $50 million for a comeback boxing match, but he declined. How true that is, I don't know -- Tyson claims he's broke, and that kind of money would dry anyone's tears. But if he's not willing to take big money for doing something he knows, he'd never take less money to do something he doesn't know.
He's an MMA fan, at any rate, going back to at least 1997 when he recognized Mark Kerr in a gym and told him he admired his knee strikes. Tyson appeared on ESPN Radio 1100 in Las Vegas on Monday and dropped some comments that made it clear he's not just a casual celebrity fan.
"Brock Lesnar is a very exciting fighter," he said. "Now you have to count that he has a great deal of intestinal fortitude. … You know his pain threshold is off the roof now." And on James Toney entering MMA: "It could be detrimental to him." Unfortunately, a minute-plus of that kind of talk was steamrolled by Tyson-empathizing-with-Mel Gibson sound bites.
It has been observed that Tyson's knowledge of the fight game is substantial, informed by hours of footage screened in the Catskills during his boxing education. Showtime enlisted him as a commentator for one or two shows several years ago. I wouldn't go so far as to say he belongs in a UFC booth, but using him in some sort of postfight wrap-up capacity would be interesting. "MMA Live" might want to consider making a call.