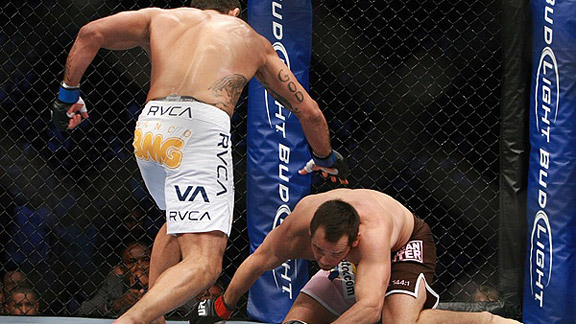 Dave Mandel/Sherdog.com
Rich Franklin fared about as well against Floyd Mayweather as he did against Vitor Belfort.
You can spin the figures any way you like, but when it came time for combat-sports fans to spend $50 on an event Sept. 19, Rich Franklin had absolutely nothing on Floyd Mayweather Jr.
According to a report filed by ESPN.com's Dan Rafael, citing numbers from HBO, Mayweather's bout with Juan Manuel Marquez rung up one million purchases; the UFC allegedly did less than half that.
The victory stung White, who had made his own bed by repeatedly knocking the attractiveness of the boxing bout. White, like others, doubted Mayweather's drawing power in the absence of Ricky Hatton or Oscar De La Hoya. But Mayweather is one of boxing's craftiest self-marketers: stints on "Dancing with the Stars" and the WWE helped popularize his image as a personable tactician. On HBO's "24/7" series, his boasts are so inflated that he's got a fair number of people tuning in to see his mouthpiece go flying.
Mayweather works the system with a mouth as motorized as White's. The difference is, we get to watch him fight.
As previously noted in this space, Franklin is one of the UFC's least effective pay-TV draws, while Mayweather is boxing's current hot topic. It wasn't exactly a fair fight. But with possible fights against Shane Mosley and Manny Pacquiao in 2010, it's clear his brand is just as viable as the UFC's.