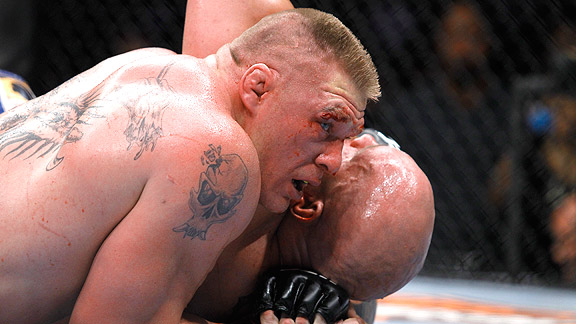 Ric Fogel for ESPN.com
October is the season for getting up close and personal with UFC heavyweight champ Brock Lesnar.
At the grocery store? Pick up the latest issue of the UFC's branded magazine, featuring Brock Lesnar on the cover. At home in front of the television? Tune in to "UFC Unleashed" for Lesnar's career highlights. Want to see him get agitated at a camera crew? "UFC Primetime" airs weekly beginning Oct. 6.
You do not need a flow chart and financials to understand why the UFC will, for the foreseeable future, remain MMA's strongest (and possibly only viable) brand. The promotion's media reach has been perfectly structured to marinate the ages 18-34 demographic in whatever it chooses to promote. It has become virtually impossible to visit a supermarket, toy store, website or cable box without getting the message. It is literally a perfect assembly of awareness, and it has reached a pitch with "Brocktober," four weeks designed to maximize anticipation for Lesnar's title defense against Cain Velasquez. The UFC has commandeered an entire calendar month for the occasion.
If you're a promotion looking to edge out even a single percentage point of market share, how do you compete with this? If you're smart, you don't try. Don't do something the UFC does well and do it poorly by comparison. Instead, do something it doesn't do: network television (Strikeforce), gimmicks (celebrity fights, tournaments) or create your own avenues of marketing (aside from Kimbo Slice, Bellator is the only company that truly "gets" the viral video market).
It's still an uphill climb, but at least you're not in a head-on collision. As for "Brocktober," although Lesnar remains the UFC's biggest draw and its most intriguing personality, the promotion may be only two fights away from needing to get creative with its matchmaking.
That's a concern for 2011, though, if ever. But if Lesnar winds up running through the UFC's toughest heavyweight division in its 17-year existence, he deserves at least two months named after him.