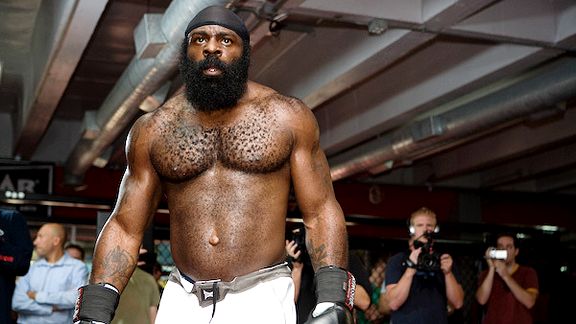 Sherdog.com
"The Ultimate Fighter" has to be careful about killing off current headliner Kimbo Slice too soon.
The tightrope walk of "The Ultimate Fighter 10": Wait too long to get Kimbo Slice in the cage and you try the patience of fans who consider him the star of the show; do it too soon and it's like killing off your leading man in the first act.
The issue didn't seem to weigh too heavily on the mind of Rashad Evans. For the series' third fight next week, he has paired Slice with Roy Nelson, the most accomplished cast member in the lineup. Evans clearly is not a Kimbo fan.
Highlights from Wednesday's installment:
• Earlier in the show, Nelson referred to Slice as a "veteran," which is the first time I've heard that term used for someone with four pro bouts. Perhaps he was being ironic. Slice is little more than a burly athlete with a big punch. Nelson will chew him up, which makes earlier footage of Slice going to work on a downed opponent curious.
• It's difficult to determine whether Quinton Jackson's complete disinterest in learning anyone's name is part of his charming disposition, or if he's simply becoming the latest in a proud tradition of obnoxious athletes with congested egos. You judge.
• The Lummox-Fu elimination fight between Wes Shivers and James McSweeney was cringe-worthy: little technique and airless after two minutes. Poor Shivers had to sleep in Tapout bedsheets with a chain-link pattern. Good luck getting any emotional distance from the fight.
• If you fast-forwarded through commercials, you missed Slice and Abe Wagner comparing bullet wounds. This will teach you to pay attention to the Snuggle Bear.