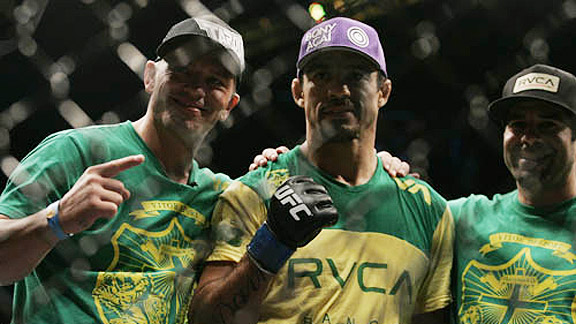 Tim Heitman/US Presswire for ESPN.com
Vitor Belfort should capitalize on his momentum before he goes cold again.
Of all the athletes who promised to re-enact some of their better days Saturday, Vitor Belfort might have been considered the least likely to succeed.
A returning Frank Trigg had amassed a tight 7-2 record since leaving the UFC in 2005; Mirko Filipovic swore up, down and sideways that surgery had left him a new man. Belfort? Coming off two impressive victories at 185 pounds, he was fighting 10 pounds heavier, was prone to frequently disappointing ... and looked somewhat depressed.
Tweet, tweet
Don't miss a moment of the latest MMA coverage from around the world. Follow us on Twitter and stay informed. Join »
A hanging head might be expected. Being Belfort involves a weird amalgamation of having incredible expectations layered on top of none: In 1997, he was considered a blitzing badass with unlimited potential. By 2000, he was written off as mentally KOed. And for the next decade, he alternated moments of promise with flat performances that completely froze audience enthusiasm.
On Saturday, carrying a loose-looking 195 pounds on his body, he became only the second man in the UFC to stop Rich Franklin. It wasn't broad -- Franklin dropped to a subtle attack, then submitted in posture -- but it did the expected job of convincing people Belfort had finally found a happy medium between performing and relaxing. There probably isn't a "new" and "old" Vitor, easily the most exhausted chart in the sport -- just a Belfort who sometimes crumbled under the weight of his own celebrity.
The news was less encouraging for Filipovic and Trigg. Filipovic spent his fifth UFC fight looking much like he had in his first four: lethargic, slow and happy to evade rather than engage. For fans who remember his heyday in Pride, which almost always involved a stretcher, it was a sad footnote to a stellar career. Those bouts used to give fans palpitations over what Filipovic would do to his opponent. Today, that anxiety is over Mirko himself.
Trigg barely had time to warm up before Koscheck -- younger, hungrier, mouthier -- settled in and let his hands go. At 2-4 in the promotion, it'll be hard to justify many more rounds for Trigg.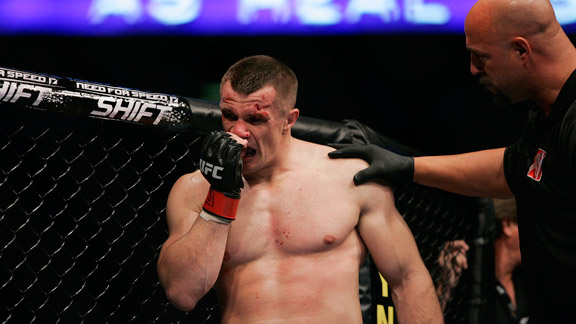 Tim Heitman for ESPN.com
It might be time for Mirko Filipovic to hang up the gloves and checkered shorts for good.
This is what the sport is about: finding out who still belongs.
Next for Belfort: Anderson Silva -- or Wanderlei Silva in a 185-pound rematch. In Brazil.
Next for Franklin: A focus on the 205-pound division: Brian Stann if he wants to ease himself in, Jon Jones if not.
Next for Junior dos Santos: Gabriel Gonzaga, who could test his mat work.
Next for Filipovic: An exit strategy.
Next for Josh Koscheck: Harping Joe Silva for a spot in October or November. But is there anyone to fight?
Next for Paul Daley: According to Dana White, potentially Mike Swick.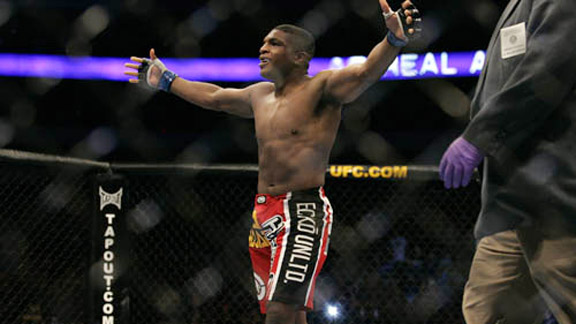 Tim Heitman/US Presswire
Is it too soon to get excited about Paul Daley? Probably.
Q: Should Vitor Belfort get a title shot against Anderson Silva?
A: Only in combat sports could a guy win a 195-pound fight and immediately get thrown in as a 185-pound contender. The problem is that Dan Henderson and Nate Marquardt -- the two guys who are far more deserving at the moment -- wouldn't excite fans as much as a Belfort fight, and probably need to fight each other to avoid giving Silva multiple rematches. (One is more than enough.) There's also the issue of capitalizing on Belfort's current wave of durability before he fades against another contender.
Q: Should Filipovic hang up the checkered shorts?
A: It's a sad day when one of the most violent fighters of any era is reduced to an immobile punching bag, but there's nothing in Mirko Filipovic's current run to indicate he can course-correct. Against dos Santos, he pushed instead of punched, backpedaled instead of advanced. It's not even an issue of going into the pocket and getting the worst of it: Mirko simply isn't engaging anymore. And that's true on multiple levels.
Q: Is it time to get excited about Paul Daley?
A: Maybe. He was able to stuff Martin Kampmann's takedown attempt, but Kampmann isn't exactly Dan Gable: Against Thiago Alves, Josh Koscheck or Georges St. Pierre, Daley will have a much harder time remaining upright.
Q: Should Frank Trigg get scratched?
A: Trigg's resurgence came at middleweight, where he was able to retain some mass while dealing with the slightly slower pace. He should probably get a tryout there before packing his things.
Etc.
• At the postfight news conference, the UFC announced a $2.4 million gate and 17,428 attendees in Dallas, setting a new sporting event record for Mark Cuban's American Airlines Center.
• The Floyd Mayweather-Juan Manuel Marquez fight in Los Angeles drew 13,116 fans. No gate figure has been released, which could mean that there may not be much to crow about.
• Pay-per-view numbers won't be circulated for awhile -- and since they often come from promoters themselves, can't always be verified -- but Mayweather's celebrity status from pro wrestling stints and "Dancing with the Stars" may have put him over.
• Prelim status doesn't always have to suck: Rick Story collected Fight of the Night and Submission of the Night bonuses totaling $130,000. Belfort collected Knockout of the Night honors.
• Per MMAWeekly, the shoulder injury suffered by Steve Lopez "popped back in" backstage and it does not appear to require surgery
• Not for nothing, but one of Mayweather's bodyguards during an episode of HBO's "24/7" was sporting a Tapout shirt. Maybe we can get along after all.