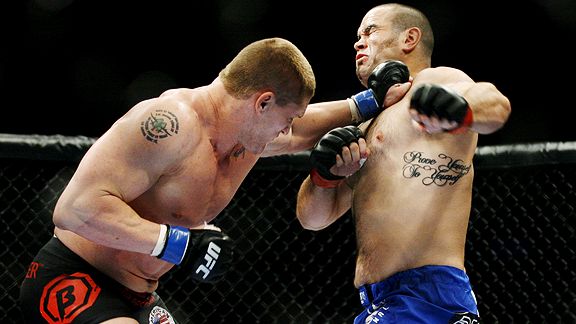 Ric Fogel for ESPN.com
Who needs Quinton Jackson when you have seven-second KO artist Todd Duffee?
Without Memphis native Quinton Jackson topping the card, UFC 107 -- scheduled for Dec. 12 in Tennessee -- has been the focus of one of those nagging existential questions: Why does it still exist?
Tweet, tweet
Don't miss a moment of the latest MMA coverage from around the world. Follow us on Twitter and stay informed. Join »
Though no bouts have been officially announced, innuendo points to a B.J. Penn-Diego Sanchez main event, with MMAJunkie.com also tabbing a Frank Mir-Cheick Kongo bout and an appearance by seven-second knockout artist Todd Duffee. On Wednesday, ESPN's "MMA Live" tweeted (twittered? twote?) a report of Kenny Florian meeting Clay Guida on that date.
So again, why does the event exist? If these reports are accurate, it's to be in the service of some excellent fights. And although Jackson's absence is a blow, Tennessee has a healthy appetite for this stuff: A Fight Night in Nashville set an attendance record for that Spike series in April, drawing more than 10,000 spectators (again, per the decent people at MMAJunkie.com).
It's going to be an awfully violent month for the whole peace-on-earth thing. The UFC will hold its finale for Season 10 of "The Ultimate Fighter" on Dec. 5, a date also earmarked by Strikeforce for a show at the HP Pavilion in San Jose, Calif. Frank Shamrock is a rumored participant.