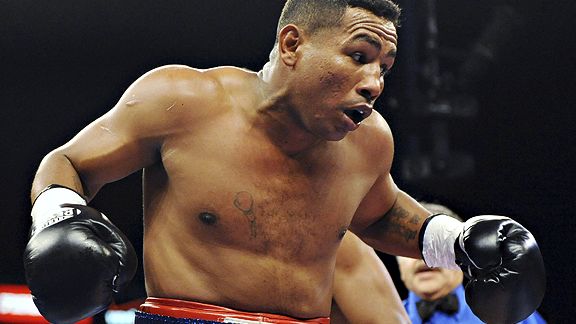 Harry How/Getty Images
Who knows if Ricardo Mayorga ever intended to climb into the cage, but his efforts did help land a boxing match.
You'll recall that boxer Ricardo Mayorga somehow convinced burgeoning MMA promotion Shine Fights that he was not under any contractual obligation to Don King. Shine bought into this, despite Mayorga having signed a promotional agreement with King in 2008, and King being litigious to the point that he has a reserved seat in court. Predictably, King got an 11th-hour injunction against Shine, halting Mayorga's MMA fight with Din Thomas and gleefully contributing to one of the biggest meltdowns in promotional history.
Tweet, tweet
Don't miss a moment of the latest MMA coverage from around the world. Follow us on Twitter and stay informed. Join »
There were pessimists who believed Mayorga's MMA fight was simply one long, loud attempt to get King moving on his contracted boxing matches; Mayorga happened to be in the shape of a water balloon leading up to the Thomas bout. Now FightNews.com reports that King and Mayorga have reconciled and that Mayorga will have a fight Sept. 4 in Germany against Felix Sturm.
Why is it that the media could easily imagine this exact outcome, yet Shine did little but choke on the sand they stuck their collective head in? Granted, it's old news, and the industry has moved on to other things. But there's also a kind of pleasure in seeing a fighter manipulate the system for a change. Mayorga may be abrasive, but he's far from dumb. If only we could say the same about some of his business partners.