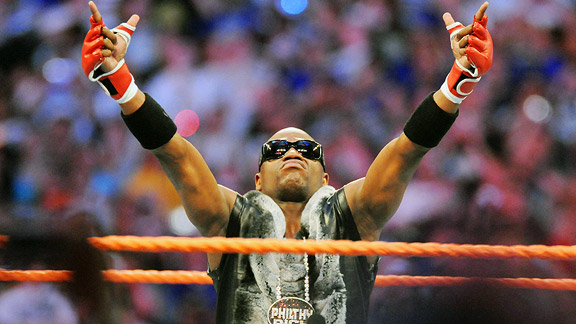 George Napolitano/FilmMagic
Say what you want about Floyd Mayweather's fashion sense, but there's no denying his talent to sell a fight.
"Hosting" a professional wrestling event is not the world's most appealing résumé bullet point, but if you're Floyd Mayweather, that's probably irrelevant. In an effort to appeal to that demographic to hype his Sept. 19 bout with Juan Manuel Marquez, Mayweather will appear on the WWE's "Monday Night Raw" program Monday night on the USA network. And considering he has that fight in four weeks, it's unlikely he'll be taking any steel chairs to the face.
If you find yourself lost in the narrative, consider that Aaron Glazer, a writer for the Examiner.com site, wrote, "Randy Orton has been bullying guest hosts for weeks, even going so far as to attack Freddy Prinze Jr." Things are clearly coming to a head.
Not an unwise move for Mayweather, who would categorically love to chair a "victory" for boxing in a head-to-head revenue comparison Sept. 19. It's also a feat that's not likely to be duplicated by the UFC, which has long held a slightly hypocritical attitude toward Vince McMahon's theatrics. Despite Brock Lesnar's success, the promotion has been lukewarm to fellow former WWE star Bobby Lashley and his credible amateur wrestling background. The UFC also allegedly didn't want Kurt Angle to appear on TNA Wrestling if he had signed with the MMA promotion.
Boxers and other celebrities -- "Raw" has apparently been doing this guest-hosting thing for weeks now -- can seemingly get away with it, but MMA still has a complex about even flirting with impropriety. How a martial artist would feel out of place on that kind of broadcast while Mayweather appears right at home is a curious thing.