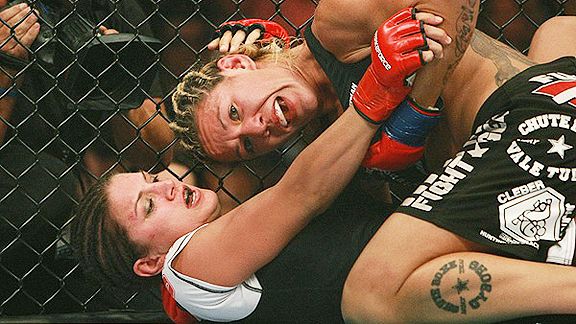 Dave Mandel/Sherdog.com
Cristiane Santos got a fraction of the take from Saturday's fight, but she made Gina Carano pay.
The value of being a poster girl: Gina Carano, who suffered her first professional loss Saturday at the piston-pumping hands of Cristiane Santos, earned $125,000 for the effort, according to numbers released by the California State Athletic Commission. Santos earned only a fraction of that, settling for $25,000 and Carano's still-beating heart.
Officially, the second-highest take-home salary from the card belonged to Jay Hieron, a capable (if under-the-radar) welterweight who banked $55,000 for his off-camera decision over Jesse Taylor; unofficially, the undisclosed salary of Gegard Mousasi was probably good for six figures, or something close to it.
Mousasi wasn't good for a lot of mass media attention -- though that could change if he keeps beating people to the extent that a coroner rushes into the ring instead of an EMT -- but Carano might be one of the best buys in the sport. For one weekend, at least.