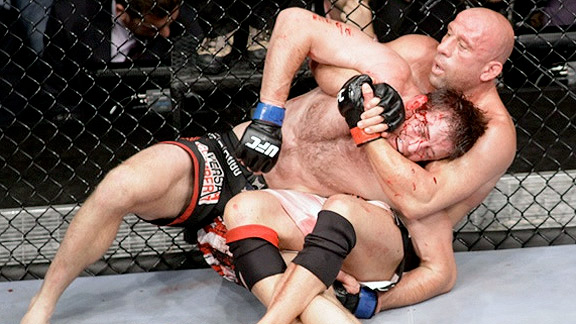 Sherdog.com
Even at 44, Mark Coleman might have the upper hand in a bout with long-dormant Tito Ortiz.
Following a bloody, sweaty, occasionally ugly battle (and win) of attrition against Stephan Bonnar on July 11, UFC 10 veteran Mark Coleman -- that's UFC 10, when the freaking arena was candlelit -- has reached a deal to face Tito Ortiz in his UFC return Nov. 21 at Las Vegas, reports Fighters Only.
This is normally the time when I'd bemoan some sandbag matchmaking, but Ortiz's biggest strength -- the ability to grind down opponents on the mat -- also happens to be Coleman's, and Coleman is the fighter with the better wrestling credentials (NCAA champion, 1992 Olympian). Ortiz is also coming off back surgery and a layoff dating back to May 2008, which casts serious doubt on his ability to perform. Plus, the last time Ortiz faced a 40-something wrestler with ears like rotten cheese wedges, he literally got spanked. This one actually makes some sense.