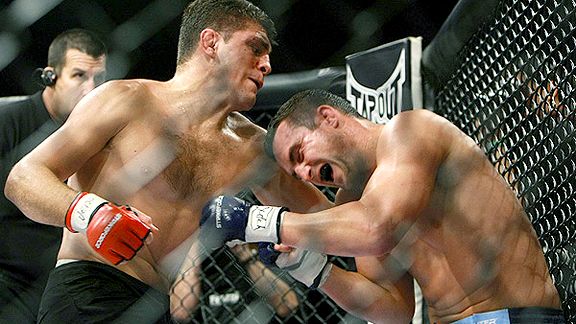 Dave Mandel/Sherdog.com
No doubt, Nick Diaz has the skills to pay the bills. Too bad his promotion can't count on him.
When ESPN Radio 1100 of Las Vegas spoke to both Showtime vice president of sports programming Ken Hershman and Strikeforce CEO Scott Coker recently, naturally the (ahem) high-altitude training of Strikeforce athlete Nick Diaz was touched upon. Neither man seemed delirious with joy about Diaz's choices. (CliffsNotes version: According to trainer Cesar Gracie, Diaz avoided taking a urine test because he was confident he would test positive for marijuana. The strategy bumped him from a Strikeforce welterweight title bout against Jay Hieron on Saturday.)
Hershman's response to the news, clipped from Cagewriter: "You gotta be able to show up, and if you can't and you're not reliable, then who can count on you, and where are you going to go with your career? Either you're going to do it right or not do it at all. You only get one or two shots at that, and then it's done. I don't see how I can promote and spends hundreds of thousands, if not millions of dollars, promoting somebody who's not going to show up. It's just bad business."
The Big Brother is watching atmosphere doesn't always work out in society's best interests, but in the case of prizefighting, I'd say it's not such a bad thing that erratic athletes are subject to drug testing, fines and possible contract nullification for acting irresponsibly. Diaz needs to decide what he's more serious about: scarfing a box of Oreos or living up to his potential.