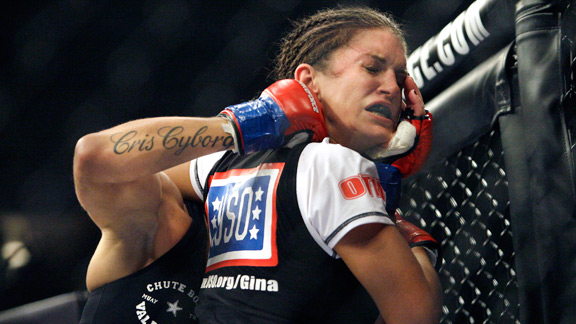 AP Photo/Jeff Chiu
It's hard to blame Gina Carano for heading for the hills immediately after losing to Cristiane Santos.
In a Monday editorial, Yahoo's Steve Cofield took Gina Carano to task for exiting the ring in haste following her definitive loss to Cristiane "Cyborg" Santos during Saturday's Strikeforce card.
Citing a lack of professionalism for not agreeing to an interview, Cofield drew comparisons to Forrest Griffin's arena-is-on-fire exit back on Aug. 8 following a loss to Anderson Silva. (In either case, bending to Santos or Silva is hardly the stuff of embarrassment.)
Do athletes "owe" us an explanation immediately following their losses? There's clearly a morbid thrill in watching someone freshly mauled try to articulate themselves; Carano in particular had the weight of a sport subculture on her shoulders.
But has anything truly profound been said when someone is hopped up on adrenaline and choking on their own blood and snot? I'm anxious to hear both Griffin and Carano verbalize their nights, but having some distance and reduction of blood pressure is probably good for a more comprehensible recollection. Being made to stand at attention and reassemble neurons two minutes after a beating isn't going to result in any motivational speaking offers.
Half the time, I'm hoping for subtitles.