It could be argued that Strikeforce's most valuable asset isn't Fedor Emelianenko, hypercompetent CEO Scott Coker or the tremendous access allowed by CBS/Showtime, but rather its lockdown on female mixed competition, which has outdistanced early catcalls, derision and fan immaturity to become one of the most entertaining and dynamic divisions in the sport.
For the holdouts, Saturday's "Strikeforce: Carano versus 'Cyborg'" put the defense on permanent rest, as 145-pound contenders Gina Carano and Cristiane "Cyborg" Santos spent some of the most torturous five minutes in recent memory slugging, shooting and swelling. It was Santos who wanted it more, muscling Carano in the clinch, landing the bigger power shots and finally beating a grounded Carano as if it was personal with only one second left in the round. (An MIA Carano unable to be interviewed thanks to backstage medical intervention should suffocate any idea that it was a premature stoppage.)
The one regret: As a teammate wrapped a shiny women's title around Santos' waist, promoters might have felt he were gift wrapping the conqueror of one of the most consistent attention and money earners of his promotion -- one who might not attract the same kind and volume of attention.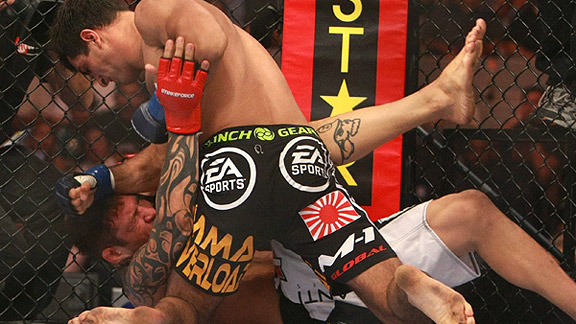 Dave Mandel/Sherdog.com
It might be a while before we see Gegard Mousasi, top, in the cage again.
Next for Carano: a seriously awkward position as gatekeeper for Strikeforce's women's division. Or, more likely, an immediate rematch with Santos.
Next for Santos: Carano, by virtue of being her physical equal. Japanese star Megumi Fujii is too small (115 pounds) to be a factor; new Strikeforce employee Erin Toughill is Santos' size but an unknown commodity. Only Tara Larosa (17-1 and a barely passable 125 pounds) stands out as a challenge -- and she's signed with Bellator for a fall tournament.
Next for Gegard Mousasi: A lot of foot tapping. Strikeforce's 205-pound division is about as populated as Three Mile Island.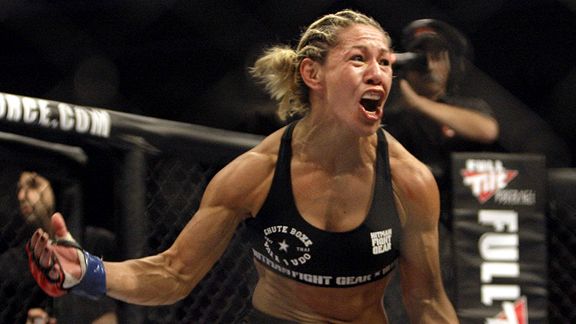 AP Photo/Jeff Chiu
Does this look like "Satan" to you?
Optimism of the night award: Mike Kyle, for trying to secure an armbar on two-time jiu-jitsu world champion and 2007 Abu Dhabi Combat Club champion Fabricio Werdum.
Academic ending of the night award: Werdum, for choking the optimism out of Kyle not a minute later.
Freudian gaffe of the night award: Showtime interviewer Jenn Brown, for unironically referring to Cristiane Santos as "Satan" while talking to Carano backstage.
Exhumed body of the night award: Renato Sobral, for appearing as though he were looking into another dimension after being pounded by Mousasi.
Gender equality of the night award: Heavily braced Frank Shamrock, for calling the airborne Superman punch during Santos-Carano a "Superwoman" strike.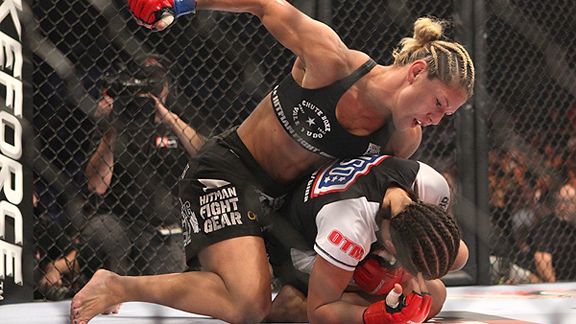 Dave Mandel/Sherdog.com
There's no denying Cristiane Santos' punching power, but will she have drawing power?
Q: Will Carano's vulnerability mean fewer tickets sold?
A: You could take the position that it wasn't women's MMA that grew in popularity during the past two years but Carano's popularity in particular. Now that she has been bruised, it's unlikely that the non-English-speaking, somewhat-less-angelic presence of Cristiane Santos will be a suitable replacement.
Q: Can Strikeforce cultivate a compelling women's division?
A: Carano is a proven draw -- her prior fights on CBS have attracted millions of viewers -- but in doing so, she has run through a solid chunk of talent: Julie Kedzie, Rosi Sexton, Tonya Evinger, Kaitlin Young and Kelly Kobold. Santos also has gone on quite a run. Many of the remaining threats -- particularly from overseas -- aren't their physical equal. Can you still be a draw if you're fighting beneath your level?
Q: Is Fabricio Werdum a worthy challenge to Emelianenko?
A: In dispatching Mike Kyle with efficiency, Fabricio Werdum proved that he could -- dispatch Mike Kyle with efficiency. And not many people needed to be convinced of it.
Werdum is a tough, talented heavyweight who has solid credentials, and it's very possible Strikeforce's three-fight contract with Emelianenko will need to enlist him. Whether that's good for the box office or just good for disappointing fans who might see Werdum as a step backward is something worth dwelling on.
Etc.
• Matt Lindland identified himself to MMAWeekly Radio as Strikeforce's latest acquisition.
• Showtime VP of sports programming Ken Hershman told Yahoo! that the promotion is eyeing an Oct. 10 debut for Emelianenko.
• Middleweight champion Cung Le has made press rounds saying he's looking at a late-fall or winter 2010 return.