You might find a number of reasons to dislike women's fighting -- suspect cardiovascular conditioning, lack of KO power, potential emasculation in knowing any of them would whip your Cheetos-cushioned rear -- but there are few excuses not to be excited for Saturday's promise of an undisputed female champion.
Joined at the hip since 2007, 145-pound contenders Gina Carano and Cristiane Santos finally will resolve their status and determine who holds claim to being the toughest woman on the planet. You can be reasonably sure Andy Kaufman is very glad he never encountered either one.
What: Strikeforce: Carano versus "Cyborg" from the HP Pavilion in San Jose, Calif.
When: 10:30 p.m. ET Saturday on Showtime
Why you should care: Because Carano and Santos are legitimately talented, legitimately scrappy combat athletes who match up in a way that guarantees maximum violence; because all signs point to Gegard Mousasi's being a big deal in 2010, and Renato Sobral might have something to say about that; because you're already getting Showtime for "Dexter" -- right? -- and that makes this show the next best thing to free.
Fight of the night: Oh, come on: Carano versus "She-Hulk."
Sleeper fight of the night: A streaking Jay Hieron is taking on late replacement Jesse Taylor. As callous as it sounds, two guys thrown in together at the last minute -- with no time to tweak preparation to the opponent -- is usually good for an alley fight.
Pre-emptive complaint: Prelim contestant Isaiah Hill hasn't won a fight in more than two years and sports a 4-6-1 record. And he's on a major show?
Hype quote of the show: "I try not to schedule fights the week I'll be on my period. Making weight is hard enough and during our period, we may retain around seven pounds of water weight. Plus bruises hurt more, you're bloated and cramping and emotionally, it's tougher to battle through the training." -- Carano to lucky ESPN The Magazine journalist Ryan Hockensmith.
Five questions for Strikeforce: Carano versus Cyborg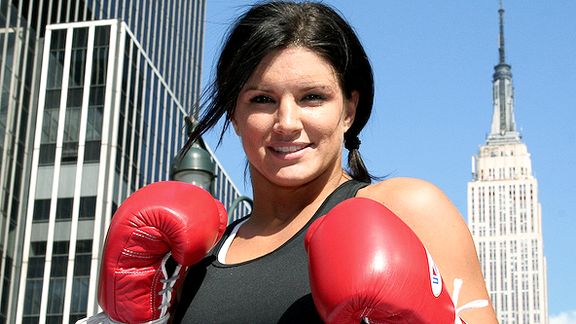 Sherdog.com
Gina Carano will have to shake off 10 months' worth of ring rust on Saturday.
Q: Is Carano rust-proof?
A: Thanks to botched promotional care (courtesy of ProElite) and contract muck, Carano will have enjoyed a 10-month layoff by the time she and Santos square off. Even if that time was spent in the exclusive company of a heavy bag and blended oatmeal -- and it wasn't -- Carano will have some timing issues to work out in the opening moments of the fight. There is no substitution in prizefighting for someone trying to take your head off. For a prize.
Q: Are looks everything?
A: Remember how ripped Linda Hamilton looked in "Terminator 2" and how all anyone could discuss were her marbleized arms? If this training video is any indication, Santos will make Hamilton look like a plus-size model.
Of course, it's easy to take a month's worth of footage and edit it to three minutes of kinetic hype. Carano isn't as vascular; whether that's evidence of two disparate worth ethics -- or just genetics -- is open to debate.
Q: Is Nick Diaz setting fire to his career?
A: Originally scheduled to face off against Joe Riggs on Saturday, Diaz first had his opponent switched to Jay Hieron and then to no one at all -- he failed to appear for a scheduled drug test and was bumped from the proceedings. He won't get his show money, won't get his win money and won't get his sponsorship money.
While neither Diaz nor his camp has explained to the media why he missed the drug test, Diaz has admitted to marijuana use in the past. Both Diaz and trainer Cesar Gracie are fond of waxing on the evils of the anti-marijuana squad, which is their privilege. The problem is their opinion isn't worth more to the athletic commissions than a urine sample. If Diaz skipped the scheduled drug test because he had been using marijuana and therefore knew he would fail, he wasted an entire training camp and put his employer under no small amount of promotional duress. The consequences of his use would make it a very expensive dime bag.
There's a time and place for everything; Diaz might need to run his smoke signals more carefully.
Q: Is Fabricio Werdum as bummed out as we are?
A: Not long ago, Werdum climbed out of bed and into the gym fueled by the prestige that comes with opposition like Antonio Rodrigo Nogueira, Andrei Arlovski and Alistair Overeem; some bouts took place in cavernous Japanese arenas.
On Saturday, he'll suit up for a prelim fight against Mike Kyle, a journeyman fighter who has posted exactly one impressive win -- against Rafael Cavalcante -- in nearly four years. If you can figure out what this fight will do for Werdum's career, you're in very exclusive company.
Q: Is Strikeforce ready for the scrutiny?
A: Aligning with Showtime (and potentially CBS) to promote Fedor Emelianenko has brought Strikeforce more attention in the past several months than it's experienced in several years of business tallied together. And with a presence that magnified comes some very visible stumbling.
Saturday's card has hemorrhaged athletes due to injury, Diaz apparently couldn't be bothered to deliver a clean cup of urine and equal rights for five-round women's fights could result in two and a half rounds of extremely fatigued kickboxing.
Strikeforce has enjoyed status as the regional show that has its act together. Seen -- fairly or not -- as a contender for the UFC's market share, that might not cut it anymore. Emelianenko makes Strikeforce a big fish, gives it big boots to fill -- you pick the metaphor. My best one: It's playing full court now. Don't know if it has the team for it.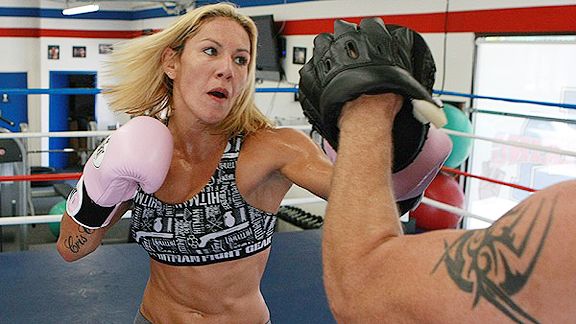 Dave Mandel/Sherdog.com
Will Cristiane Santos, above, have enough reserves in the tank to keep up with Gina Carano?
The sight of women wearing sports bras and leather usually means you've taken a very wrong turn in Manhattan. For Strikeforce, it's a signal that one of its most valuable assets is about to be put on display.
Carano (7-0) and Santos (7-1) have nearly identical experience, aggression and status in the still-burgeoning sport of female mixed martial arts. What they don't have is a history of spending 25 minutes in a cage. There's enough to be said about Santos' pressuring style versus Carano's grit, but the incredible cardiovascular demands of a title fight can exhaust even those used to it. And you usually run out of gas before you run out of skill.
Santos has gone nine minutes on one occasion, Carano twice. Saturday will bring 16 extra minutes for their lungs. (Carano has competed under a five-minute duration only once, in 2006.) Both are pocket strikers who stuff takedowns, can muster pop in their punches and don't bend easily against adversity. Minus the arm veins, they're fairly reflective. Whoever wins this fight is likely to be the one who doesn't need an oxygen mask at its conclusion.
What it means: Likely as not, CBS will be watching with that big, spooky eye to see whether MMA can resume a presence on its schedule. And yeah, network television is a pretty big deal. Look what it did for Kimbo Slice. And Tony Danza.
Third-party investor: Erin Toughill, a dormant 145-pound contender and one of the few women neither Santos nor Carano has smacked yet.
Who wins: Santos has impressed handicappers with a relentless pace, but Carano just keeps coming. Expect Santos to wear herself out and Carano to dominate the scoring late. Someone's quitting. Probably won't be Carano.