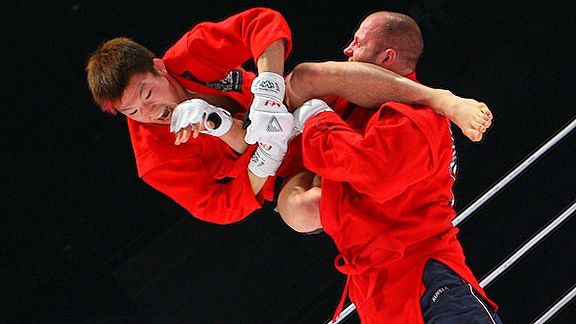 Daniel Herbertson
Fedor Emelianenko rag-dolled Shinya Aoki back in April. What else ya got, Dream?
Cornered and poked with sharp sticks by media hordes for the past several days, Strikeforce CEO Scott Coker made at least one interesting admission: He intends to work with Japan's Dream promotion to assemble fights, a step that conceivably could open up possibilities for Fedor Emelianenko beyond Strikeforce's stateside roster of challengers.
Emelianenko has already tossed around Dream standout Shinya Aoki, leaving him a crumpled pile of laundry in the ring. Who's left?
• Sergei Kharitonov (5-1 odds): Once considered a hot Pride prospect, Kharitonov has been off the radar lately. A nice win over Alistair Overeem was buried by a submission loss to Jeff Monson in April. He's a win or two away from being an intriguing fight for Emelianenko, if only because it would be interesting to see how he'd fare against a fellow Sambo artist.
• Gegard Mousasi (8-1): Scheduled for Strikeforce's Aug. 15 show and apparently not part of the UFC's Affliction scavenger hunt. He has expressed interest in competing at heavyweight and submitted Mark Hunt faster than Emelianenko did.
• Jeff Monson (12-1): Monson has rattled off seven straight wins (eight if you count the complete destruction of his ex-girlfriend's laptop). Emelianenko would probably pound him a new sinus cavity, but there's always a chance of strangulation.
• Jose Canseco (infinity-to-1): You'd watch. You'd hate yourself for it, but you'd watch.