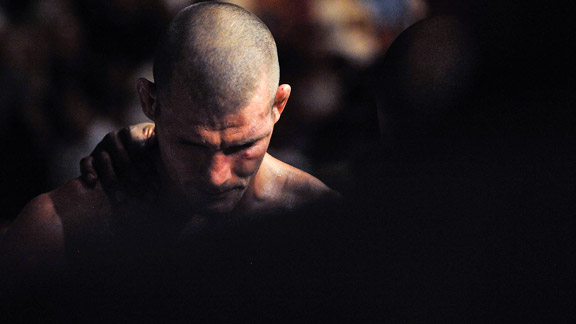 Jon Kopaloff/Getty Images
It's hard to believe Michael Bisping wasn't taking Rashad Evans seriously.
Talking to Yahoo Sports' Kevin Iole on ESPN Radio 1100 recently, pending "Ultimate Fighter 10" coach Rashad Evans dropped mention that he saw UFC 100 co-headliner Michael Bisping "out at the club" a week prior to his fight with Dan Henderson.
"I go up to him and tell him, 'Dude, you got a fight coming up,'" Evans said. "And he was like, 'What's it to you, mate?' and he got all mad and salty about it and he [acted] like [he] wanted to fight me."
Bisping may have been out to unwind or detox from a hard training camp; I doubt he was passed out on the Strip or that he approached Henderson with anything but the seriousness of someone trying to dismantle a bomb.