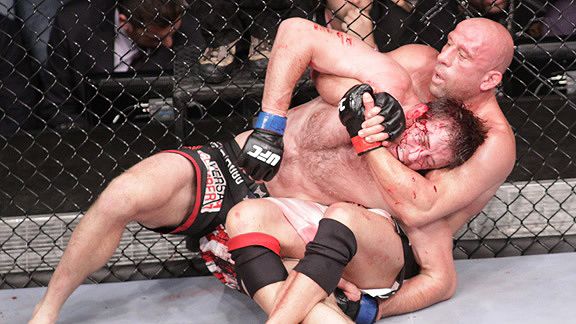 Sherdog.com
Mark Coleman obviously can take care of himself, but at 44, he should be wary of Jon Jones.
It probably didn't take a lot of convincing for Mark Coleman to give one of his first post-UFC 100 interviews to Ohio State University's U Weekly. The 44-year-old OSU alum, who is coming off a win over Stephan Bonnar on July 11, told the publication that 21-year-old Jon "Bones" Jones could be next.
"The name has been popping up quite a bit," Coleman said. "I've been getting Chuck Liddell and Tito Ortiz, but at the same time I've been hearing that it could be Jon Jones. I would prefer the oldest of the outfit there."
The UFC should agree. At 44, Coleman should be leery of fighting a solid wrestler half his age. Against the older Ortiz or Liddell, the bout's betting line probably would be significantly closer.