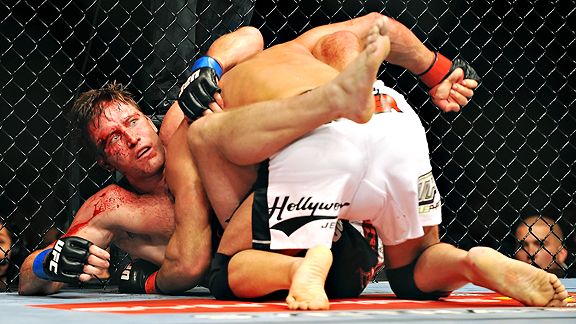 Jon Kopaloff/Getty Images
Taking up arts and crafts is one way to avoid being beaten into a bloody pulp.
What a fairly lackadaisical, methodical beating by Mark Coleman will do to a man: UFC contender Stephan Bonnar told MMAJunkie he has started a premium lithograph company that specializes in fight art prints. This in case you have an extra bit of empty wall next to your giant deer head.
It's a testament to the good will engendered by Bonnar's performance at "The Ultimate Fighter" finale in 2005 -- widely credited to be a lightning rod for the Zuffa-era UFC -- that he was able to navigate its notoriously severe brand protection and get its approval. At present, four prints -- homages to Georges St. Pierre, Chuck Liddell, Brock Lesnar and Bonnar's fight with Forrest Griffin -- are available for $125 each. If you'd like the original painting, you'll have to expectorate $15,000 from your savings account.
Best of luck to Bonnar. If MMA needed its own Thomas Kinkade, by god, it's about to get it.