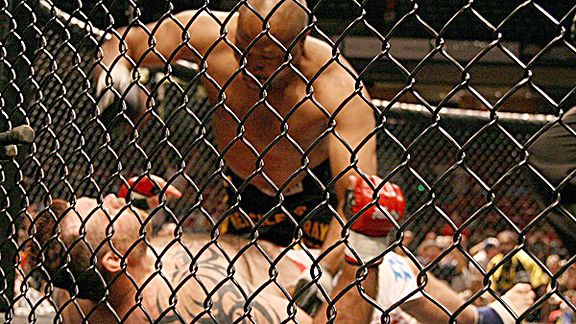 Sherdog.com
Ray Mercer, top, probably should have quit the cage while he was ahead.
Ray Mercer could have -- probably should have -- been satisfied with a victory over an apathetic-looking Tim Sylvia last month: Cracking Sylvia across the jaw, he added a little lighter fluid to the boxing versus MMA skill debate.
According to MMAJunkieRadio, American Top Team's Howard Davis Jr. is looking to entice Mercer back for another bout, this time against ATT trainer and 1990s MMA attraction Marcus "Conan" Silveira. Silveira had a couple of well-publicized bouts with Maurice Smith, a kickboxer who was one of the first to reject the notion that strikers would always be eaten alive by grapplers. (Sort of: They split the meetings at one win apiece.)
As bizarre as it is to consider, Silveira versus Mercer would be one of the very few examples of a high-level boxer facing off against a high-level jiu-jitsu athlete. Ten years ago, this would have been interesting. Today, it's exactly the kind of fight you'd find in a Florida feeder show. Davis is hoping for a Dec. 12 engagement at a Fort Lauderdale, Fla., arena.