Roughly eight mixed martial arts events are scheduled for July 11, including bouts in Mexico City, London and Germany. All of them matter -- particularly if you're a fighter looking for international attention, or the mother of a participant -- but only one can be considered an Event with a capital "E."
I'm speaking, of course, of "Gods of War 4: The Reckoning" in Baumholder.
If you cannot be in attendance for Rouven Kurath versus Fred Tusil, you may want to opt in on UFC 100, hosted by the Mandalay Bay in steaming Las Vegas. If it's not be the biggest card the UFC has ever put on, it is certainly the loudest, with an unprecedented amount of media coverage surrounding two big title fights and one "Ultimate Fighter" grudge match.
There's a very tired bit going around about how no one expected a hundredth installment of the UFC. I never found the idea all that impossible, particularly since the event -- and the sport -- stuck around like a fungus even after an attempted live burial by politicians. What surprises me is the level of respect and attention afforded to it. Mike Goldberg's proclamation that the promotion is the Super Bowl of martial arts suddenly doesn't feel so exaggerated. Not this week, at least.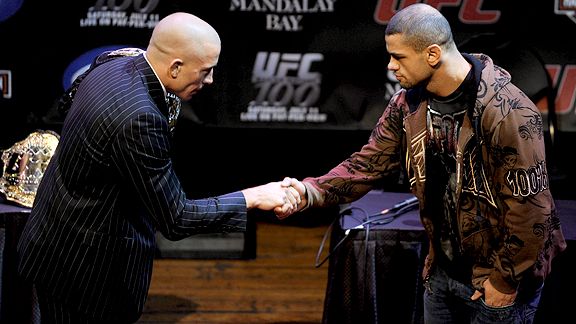 Martin McNeil for ESPN.com
Things won't be as cordial when Georges St. Pierre, left, and Thiago Alves step into the cage.
What: UFC 100: Making History
When: Saturday, 10 p.m. ET
Why you should care: Because both Frank Mir and Brock Lesnar are significantly different fighters than they were in February 2008, and because Lesnar won't be able to relax on the ground with the same lax attitude he had against Heath Herring; because Thiago Alves is -- with the exception of Jon Fitch -- the most dangerous, durable and threatening opposition to Georges St. Pierre's welterweight title; because Michael Bisping's place in the middleweight division will be determined by how he looks against the leather-boot constitution of Dan Henderson; and because Stephan Bonnar grew up on a diet of UFC events terrorized by Mark Coleman -- and now he has to fight him. That's got to be weird.
Fight of the night: St. Pierre-Alves, which is probably going to resemble the appearance of pitting two circular saws against one another. Alves doesn't let up, and neither does St. Pierre. These are attrition fighters, and one will get ground down.
Sleeper fight of the night: Yoshihiro Akiyama versus Alan Belcher, judo versus a very hard head.
Pre-emptive complaint: Coleman looked extremely weathered against Mauricio Rua in January, but nothing justifies slotting a Jon Fitch/Paulo Thiago fight on the main draw and regulating Bonnar-Coleman to "may be not be broadcast" prelim status. You'd think the UFC would give their continued masticating of pioneering talent a break for a show as much about nostalgia as anything. No such luck.
Hype quotes of the show
"He won a make-believe belt from [Antonio Rodrigo] Nogueira."-- Lesnar on Mir
"Most of my partners who are 190 to 210 [pounds] actually hit harder … [Lesnar was] kind of like having your baby sister on your back and all over you, and you're just saying, 'Get off me.'" -- Mir on Lesnar
"I'm always nervous. But I think this nervousness is a good thing, because that's what keeps me sharp … I learn how to deal with it by control and I know it's normal and I can sleep better at night. I always have butterflies, but the key is -- make the butterflies fly in formation." -- St. Pierre
"I came here to be the best fighter in the world. I came to give a better life to my family in Brazil -- and I came here to make history. Not just for me, but for my teammates, for everybody." -- Alves
"… He's not great at any one thing … he's not real dangerous on his feet … with the decision gifts that [Michael] Bisping has had in the past, I'm not going to leave it to the judges." --Dan Henderson
Red Ink: Lesnar-Mir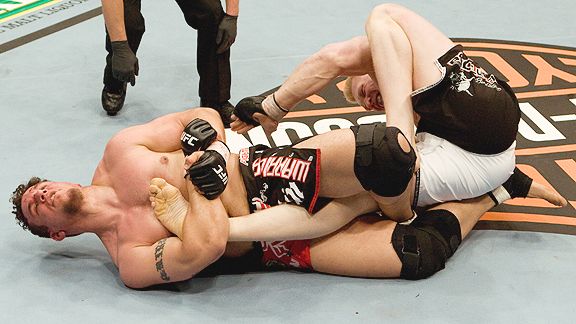 Josh Hedges/Zuffa/UFC
Brock Lesnar's excitability nearly cost him a limb the first time around against Frank Mir.
Googling "Lesnar Mir" produces about 3.5 million results; entering "St. Pierre Alves" clocks about 10 percent of that.
As scientific study, it's a pretty shaky premise; as a snapshot of the mass interest in UFC 100's two title fights, it may be on to something. Brock Lesnar is everything the UFC has ever hoped for in a competitor: a man built like a side-by-side refrigerator; arrogant, temperamental, and with an existing, powerful brand dragged from another industry. He may be the single biggest box-office draw the company has right now. And he can actually fight.
Things did not look so promising during his UFC debut in February of 2008: against Frank Mir, he showed a rookie's mentality for being too aggressive and sloppy. Facing someone equally green would've been forgiving; facing the experience of the accelerating Mir -- finally back in form after a 2004 motorcycle accident -- meant he got his foot nearly ripped off. (There is debate that, had referee Steve Mazzagatti not interrupted the action to caution Lesnar about punches to the back of the head, he would've overwhelmed Mir. But the same excitability that prompted the illegal shots prompted the slow counter that ended the fight. Mazzagatti did not cost Lesnar the victory: Lesnar cost himself.)
If Lesnar is not the most skilled heavyweight, he is easily the most athletic. Whether that will be enough to overcome Mir's technical ability is why we'll bother watching.
Striking: Mir has evolved over the years from a reluctant and clumsy striker to someone who now appears indifferent to where the fight takes place: he battered Antonio Rodrigo Nogueira by barely going horizontal. Lesnar has nowhere near that ability -- and it'll take him years more to even have a chance -- but his surprising reach (and unsurprising power) complicates things significantly.
Canvas: Lesnar's instinct is to take the fight to the mat -- exactly where Mir has the best chance of ending the night early. Lesnar may be advised to keep things on the feet, enjoy his reach, pressure Mir in the clinch, and then go to work the mat only when both men are slippery enough to make a submission more wishful thinking.
What it means: Windex for the UFC heavyweight title picture -- both Lesnar and Mir own a piece of it.
Third-party investor: Randy Couture, who would do the biggest business out of anyone when it comes to a rematch with Lesnar. (Presuming he can get past Antonio Nogueira on Aug. 29.)
Who wins: Mir. Lesnar will continue to perform well against more plodding heavyweights, but Mir has surprising agility for a man of 250 pounds. Lesnar won't be able to resist the urge to tackle him early. It'll be the beginning of his end.
Red ink: St. Pierre-Alves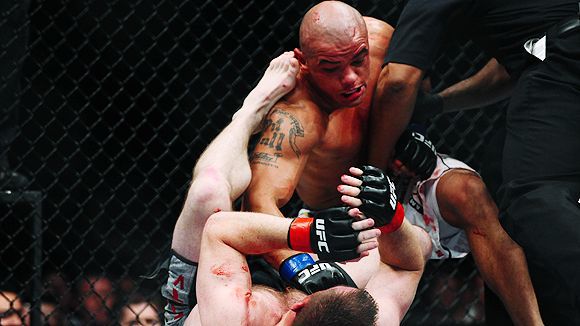 Martin McNeil for ESPN.com
Thiago Alves packs a mean punch, but how will he handle fighting off his back if he's taken to the ground?
Thiago Alves has won seven bouts in a row, the past three against legitimate top-10 competition. Were it not for the traumatic evening against Matt Serra, Georges St. Pierre might now be holding the record for most consecutive wins in the Octagon. The point? That the No.1 and No. 2 men in a division are fighting, both in their primes. And that's not as typical as you'd think.
Unlike most elite mixed martial artists who can do everything well but are legendary at nothing, St. Pierre performs at altitude levels in every facet of the game: he's very good at being very good. Despite that reputation, he is now essentially a wrestler, planting B.J. Penn, Jon Fitch and Josh Koscheck on their backs and then pushing in their noses. If St. Pierre wants to take you down, your counterargument had better involve a bat.
This is bad news for Alves, who has shown that he can be controlled on the mat. He's big for the 170-pound class, but so is St. Pierre. And he hasn't seen a fourth or fifth round. That could be a big problem.
Striking: Alves seems to pack either more power or better aim -- he's knocked more people for a loop standing than St. Pierre has.
Canvas: Alves has never had much use for his black belt in jiu-jitsu; his lone submission win was years ago. He has also never had anyone as strong or as agile as St. Pierre take a shot at him -- the effect may prove disillusioning.
What it means: A win for St. Pierre virtually cleans out the welterweight division -- until Jake Shields arrives. While guys like Mike Swick and Martin Kampmann vie for the public's backing, GSP might consider using the rest of 2009 to prepare for a long-rumored catch bout with Anderson Silva in 2010. If the UFC isn't interested in capsizing one champion, then the winner here should probably face Swick -- though in a fight no one is really screaming for.
Third-party investor: The UFC, which could see unbelievable business develop by pitting two of the anointed "pound-for-pound" greats against one another in Silva and St. Pierre.
Who wins: St. Pierre. Alves will tire resisting the takedowns and GSP will capitalize in later rounds.
Red ink: Bisping-Henderson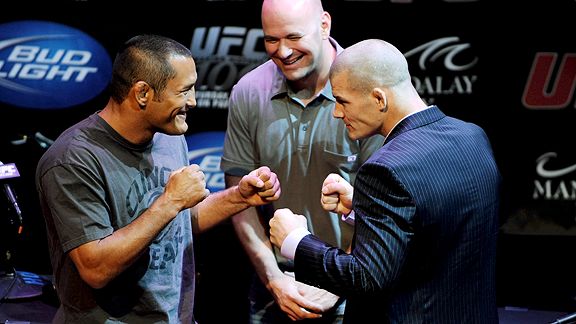 Martin McNeil for ESPN.com
Michael Bisping doesn't bring much to the table that Dan Henderson, left, hasn't already seen.
I'll confess that I haven't re-watched all 31 of Dan Henderson's fights, but if memory serves, I don't think he's had a single one which he didn't make for a competitive bout. There has never been anyone -- not even a heavyweight -- that has controlled him for the entirety of the match. Unless you're from the Nogueira family -- or train closely with them -- you can't submit him. And except for his fight with Anderson Silva, he has never been defeated in what appears to be his "natural" weight class of 185 pounds.
What Michael Bisping may be counting on Saturday is to outhustle Henderson, wear him down, throw combinations while he loads up that predictable -- but effective -- right hand, and hope the judges appreciate the activity. It may look quite a bit like his fight with Matt Hamill, with Bisping powerless to stop the shots and thrown off by the aggression.
Striking: Henderson has exchanged hands with some of the best in the business. He makes it dirty, with lots of clinching and wild rights and a complete lack of apprehension. (Having a cinder block for a face tends to boost one's confidence.) Bisping is better technically, but it might not matter. Henderson can attack without fear of having his legs scooped up; Bisping always has a part of his brain occupied by the possibility.
Canvas: Bisping may be adopting Chuck Liddell levels of scramble ability when planted, but Henderson has been using wrestling in MMA for a lot longer than either Hamill or Rashad Evans.
What it means: For Bisping, a chance to become another "Ultimate Fighter" face with the chops to compete for a world title; for Henderson, the promise of perhaps meeting Anderson Silva for a second time.
Third-party investor: Wanderlei Silva, who would make for an excellent Bisping opponent in a title elimination bout -- but probably wants nothing more to do with Henderson.
Who wins: Henderson via decision. To beat Dan, you need submissions, something unseen from Bisping in years.
Back Against the Mat (BAM): UFC 100 Edition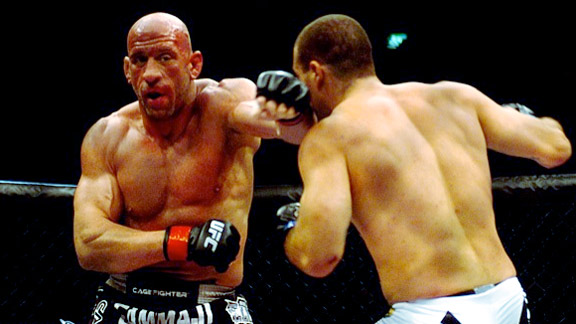 Photo by Sherdog.com
Mark Coleman will be forced to look for another line of work if he loses to Stephan Bonnar.
A fight can be a pressure cooker all by itself, but it's often the reputations, ego, or career that can turn the heat up even further. Four who have more to lose than usual this Saturday:
Mark Coleman. The 44-year-old has posted up just two fights -- both losses -- in the past three years. His stature in the sport is cemented, but future paychecks in the UFC may depend on his performance against a younger, fresher Stephan Bonnar.
Brock Lesnar. Wins against Heath Herring and Randy Couture were impressive, but neither can be considered in the prime of their careers. Lesnar will either avenge a loss to Frank Mir or find that he's not quite ready for the top level of competition. His is an arrogance and swagger that can't really afford another loss to Mir.
Michael Bisping. Has talked a sanitation truck full of s--- leading into his fight with Dan Henderson. Anything less than a knockout -- which would be a first for Henderson -- will feel a little underwhelming.
Mac Danzig. The "Ultimate Fighter 6" lightweight winner is 0-2 in his formal UFC career, having been outhustled by Clay Guida and rendered short of breath against Josh Neer. With the UFC recently cut-happy, a loss to Jim Miller could have him seeking alternative employment.
Five questions for UFC 100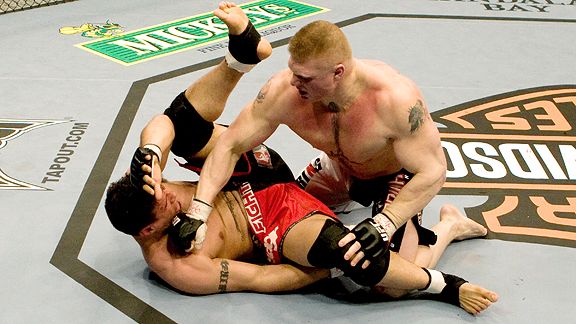 Josh Hedges/Zuffa/UFC
Brock Lesnar's ground and pound nearly spelled doom for Frank Mir in their first fight.
We've got questions: the Octagon should hopefully have answers.
Q: Is three years of training enough to survive 25 minutes with Frank Mir?
A: We know 18 months isn't enough -- that's more or less how long Brock Lesnar had been marinating in the details of submission grappling prior to his UFC debut with Frank Mir. Now that he's got some extra time under his heavyweight belt, he'll find out if knowledge is power.
But even if he knows what's coming, can he stop it? Or could Mir perform the Rickson Gracie trick of counting down to a submission and then catching it at will? And in the barren, desolate landscape of Minnesota, who has been able to emulate the physicality and technique of his opponent?
Q: Is Frank Mir better at evading ground and pound?
A: Look at Mir's most problematic moments in the cage and they'll often center around his inability to maneuver off his back and avoid some crushing shots from up top. Marcio Cruz pummeled him from above; Brandon Vera finished him there; Brock Lesnar was giving him a thorough assault before a stand-up. The same 250 pounds that's so dangerous with submissions doesn't seem to have a lot of answers for being on the bottom. Whether that's attributable to his decreased mobility post-motorcycle accident or a flaw in his programming is TBD.
Q: Is Thiago Alves ready for Round 4 and 5?
A: Georges St. Pierre's list of attributes is at scroll's length, but none of it would matter if he didn't have the conditioning. He does. Whether Alves can match it -- particularly past the 15-minute mark -- or whether his muscular endurance will fall victim to his own significant physical abuse in cutting a radical amount of weight is open to deliberation.
Q: Will Shawn Tompkins and Xtreme Couture make a difference in Mark Coleman?
A: Mark Coleman does one thing -- smash people -- and he does it very well. But fighters often have a solution for that single-minded attack and Coleman is usually left holding the bag. Part of his issue has been an island-training mentality: aside from some time spent with Pat Miletich in 2000 -- the same year he won the epic Pride Grand Prix tournament -- Coleman has preferred to prepare on his own.
For Stephan Bonnar, he's opted to gear up at Xtreme Couture, which has quickly become the breeding ground for both new and ailing athletes. (Pretty soon, everyone will train at Xtreme Couture and no one will want to fight a training partner: end of sport.) With a proper camp behind him, it's possible he can enjoy the success of other 40-something grapplers.
Q: Can Jon Jones handle another wrestler?
A: Against Stephan Bonnar, Andre Gusmao and other fighters ill-prepared for his grappling abilities, Jon Jones has looked like the future of the sport. Whether that impressive display will repeat itself against Jake O'Brien is something Jones himself is probably considering: while not as decorated a grappler as other UFC entrants, O'Brien -- a former heavyweight -- will not be giving up tackles as frequently as Jones might be used to.