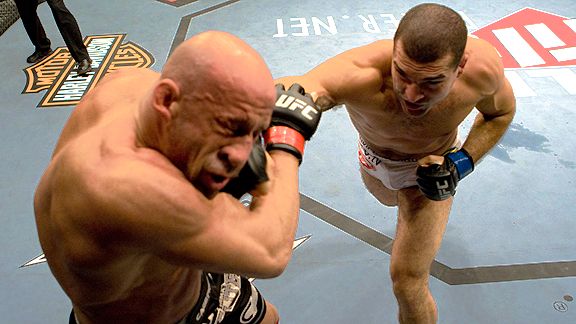 Josh Hedges/Zuffa/UFC
Face the facts: Mark Coleman doesn't see anything wrong with stepping into the cage at his advanced age.
There was a point in the sport's mid-1990s growth spurt that a Mark Coleman fight resembled a National Geographic special -- less a prizefight than a piece of snuff footage. He was an athlete among martial artists, and it wasn't pretty to watch.
A lot of time has passed since then, and Coleman, 44, has been the nail more frequently than he has been the hammer. This hasn't appeared to dissuade him. He told Dann Stupp that Saturday's fight with Stephan Bonnar won't be a curtain call, regardless of the outcome.
"As long as I can stay healthy ... and I'm not putting my health in jeopardy," Coleman said. "Look, I want to be able to play with my kids. I'm not reckless. I can't give you a number [of years]. I've been doing this for a long time. I still feel like I'm one of the guys. Age is just a number, and I try to stay young mentally. I try to be one of the guys."
Since entering a more intensive training regimen with Xtreme Couture's Shawn Tompkins, it's likely we'll see a more durable Coleman than the one on display against Mauricio Rua in April. That doesn't change the fact that his real home is at heavyweight. Slicing pounds is a taxing ordeal for someone in their 20s, let alone a man in his fifth decade.