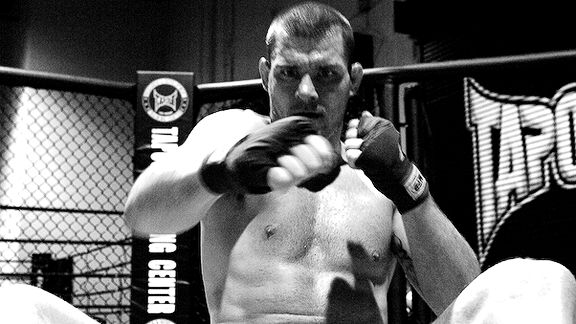 Sherdog.com
A win over Dan Henderson just might punch Michael Bisping's ticket toward a title shot.
Gaining momentum in recent weeks is the idea that 17-1 Michael Bisping could earn a title shot with a win over Dan Henderson on Saturday.
Bisping, 3-0 as a middleweight, is a numerical underdog in the Henderson fight, with most handicappers expecting that his opponent's experience and wrestling credentials will be too much to handle.
More important than a win is how exactly Bisping would take it. If he earns a razor-thin, contestable decision, the idea that he could leapfrog over someone like Demian Maia or Nate Marquardt -- who will fight each other Aug. 29 -- is suspect. If he lives up to his mile-a-minute boasts and knocks Henderson out? By all means: Fly Anderson Silva to England.
If such a fight winds up happening there, Silva definitely would be owed a Brazilian bout: He has not only fought Americans in America time and again but also fought Ohio native Rich Franklin in Cincinnati. The man deserves an Octagon assembled in a Curitiba backyard for reporting above and beyond the call of duty. If a skeletal Sports Entertainment Group staff can pull off a Brazil card -- as it did in 1998 -- Zuffa's machine should be able to do it without breaking a sweat.