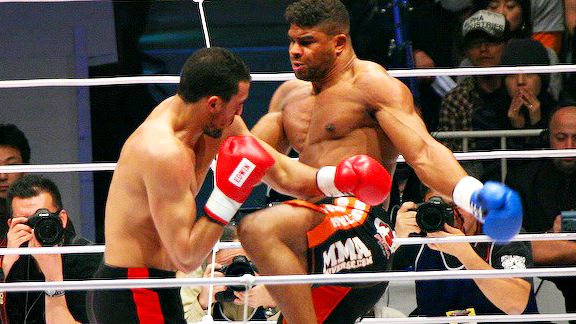 Daniel Herbertson/Sherdog.com
Easy for Brett Rogers' manager to say Alistair Overeem is scared. He doesn't have to fight him.
After news broke that Strikeforce heavyweight champion Alistair Overeem would be facing Fabricio Werdum on Aug. 15, talk turned to the neglect of Brett Rogers, who was presumed to be first in line for a shot. According to Mike Reilly, Rogers' manager, it's a case of Overeem running for cover.
"I think Overeem is afraid of Brett," Reilly told Fanhouse. "He's afraid of a big striker who is going to knock him out. … I don't think anyone is going to admit that, but I'm not going to shy away from it. … I think Overeem was a good champion for Strikeforce when they were a smaller show. … If you are under 250 pounds right now, just forget about fighting Brett Rogers, because all that is going to happen is that you are going to get your head spun around."
If there is anything to be learned after spending over a decade covering the sport, it's that statements like these come back to haunt people with alarming regularity. Rogers is a tough guy with a great record, but if he continues to fight top competition, he'll eventually lose -- just like everyone else.
Still, Reilly's goal was probably to get his client some ink -- which he accomplished. Can't argue with results.