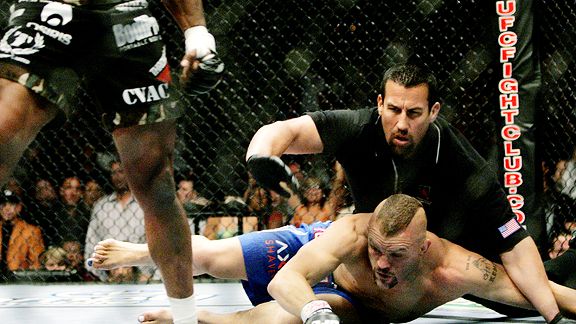 AP Photo/Eric Jamison
It's going to take a whole lot longer than a year of rest for Chuck Liddell to undo this kind of damage.
After making a vague reference to a possible fight between Chuck Liddell and Rich Franklin to combat the Floyd Mayweather-Juan Marquez bout on Sept. 19, Dana White will have to look for another headliner. Liddell told Josh Gross of SportsIllustrated.com that he's taking a one-year layoff from competition.
"Hopefully my brain can heal over time," he told Gross. "The shot last fight [versus Mauricio Rua] is something that normally wouldn't hurt me."
It's an attractive theory, but the problem is that Liddell didn't give his brain much of a chance to gather the troops after KO losses to Quinton Jackson and Rashad Evans. (He took eight months off after the Wanderlei Silva fight and still got downed by Evans.) There may be some science to letting gray matter repair damaged cells or sheared fibers, but Liddell isn't talking about one bad break. He's talking about an entire adult life occupied with getting hit in the head. That's a lot of neural road to try and repave. Hopefully, he'll find semi-retirement to his liking. Getting knocked out once is bad; getting knocked out three or four times is worse.