With UFC 100 just days away, we're taking a look back at the bouts that made a dramatic difference in Octagon perceptions, both in and out of the cage. (Part 1, with the first half of the top 10, can be viewed here.)
5. Royce Gracie versus Matt Hughes (UFC 60, May 27, 2006)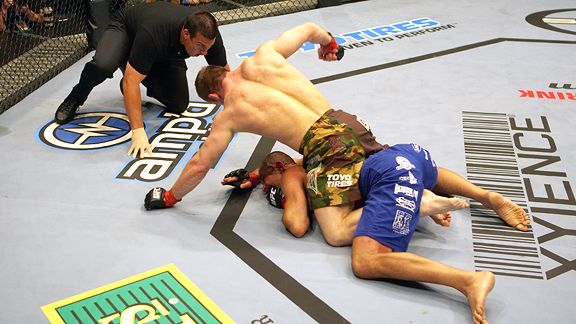 UFC
Matt Hughes' win over Royce Gracie proved one-trick ponies can't cut it in the UFC these days.
If you're inclined to gauge how much the sport of mixed martial arts evolved during Gracie's 11-year absence from the UFC, you can either (A) spend hours pouring over fight footage or (B) take five minutes to watch his fight with Hughes. The latter is a sight that rendered his fans catatonic: Gracie was ineffective in the clinch, helpless on the ground and reduced to a battered mess by Hughes, who used a mix of wrestling and jiu-jitsu that depressed the hell out of anyone who ever rented a UFC II VHS cassette.
Hughes once confessed that he had half-expected Gracie to pull out some "magical" submission from the bottom. Whether he was that paranoid or just being kind is irrelevant: there was no magic left.
The winner: Hughes by TKO.
The lesson: MMA had moved far beyond Gracie's singular abilities; this was a broad illustration that could be seen even from the cheap seats.
4. Chuck Liddell versus Tito Ortiz (UFC 47, April 2, 2004)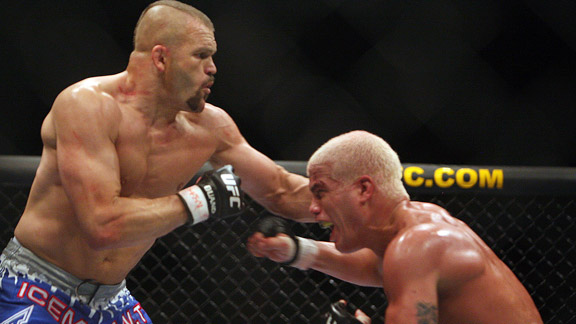 AP Photo/Marlene Karas
Tito Ortiz had nothing for Chuck Liddell, but the fight had major implications for the UFC.
Still a year away from finding the attention of a cable-surfing audience, the UFC was brutally short on true superstars. Ortiz, mired in contract disputes, had just been spanked -- literally -- by Randy Couture, and there was no telling if the 40-something champion's next fight would be his last. Georges St. Pierre had just debuted in the promotion; Ken Shamrock was running on the fumes of fumes.
Liddell had just returned from a bad run of performances, having lost to Couture a year earlier and come up short in a Pride elimination tournament in Japan. This is not the definition of career momentum. What he had was a feud with Ortiz, whom he had accused of avoiding him.
If true, Ortiz was playing it smart: He had nothing for Liddell, couldn't complete a successful shot and crumbled in a heap when the striker finally found his comfort zone. It was the beginning of a legendary tear that launched Liddell on a three-year run as the promotion's most recognizable and marketable attraction just as the brand itself was ready for some mainstream apologies.
The winner: Liddell via TKO.
The lesson: Opportunities mean nothing without stars. Liddell's was the perfect style at the perfect time.
3. Robbie Lawler versus Steve Berger (UFC 37.5, June 22, 2002)
It was not so long ago that the UFC's odds for achieving mass public consumption were only slightly better than CBS's broadcasting hardcore pornography. MMA was the sports equivalent of a dirty magazine behind the convenience store cashier: No one would touch it.
That changed in 2002 when Fox Sports' "Best Damn Sports Show Period" agreed to build one of its talking-head-panel episodes around a UFC event. (It would be tape-delayed, but beggars can't be choosers.) The UFC quickly threw a card together headlined by Vitor Belfort and Chuck Liddell, but it was Lawler's predicted slugfest with Berger that garnered airtime and impressive ratings. FSN went on to present more specials and air-repackaged UFC and Pride compilations. More importantly, the UFC earned a precedent for receiving airtime and not destroying Western civilization in the process.
The winner: Lawler via TKO.
The lesson: MMA was a viable piece of programming -- for a network willing to take chances.
2. Genki Sudo versus Duane Ludwig (UFC 42, April 25, 2003)
Fighting in a ring -- with rules, in front of a crowd -- is an artificial environment and no amount of crowing is about to change it. Most fighters accept that the outcome is one based on the template served up.
It doesn't mean there isn't room for improvement. After Sudo appeared to gain control of the third round against Ludwig in an exciting fight, smashing his face to little orbital bits, referee John McCarthy halted the action to examine the damage. Ruling the fight would continue, he restarted them on their feet. Ludwig took control, stealing the round -- and the fight -- right out from under Sudo. Almost immediately, rules were ratified to make sure that after a medical break, athletes would be started from the same position.
The winner: Ludwig via decision.
The lesson: If it's broke, fix it.
1. Rashad Evans versus Lyoto Machida (UFC 98, May 23, 2009)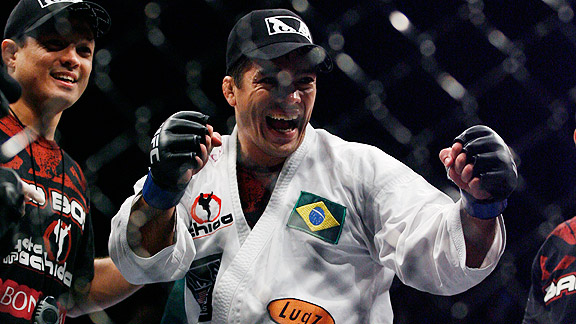 Ric Fogel for ESPN.com
Lyoto Machida breathed new life into MMA while reviving the status of karate inside the cage.
Lyoto Machida can do everything others can do, but he is successful because he can do one thing no one else can do. Using his father Yoshizo's house blend of karate to parry and feint, he frustrates opponents, leaves them swinging at nothing and emerges from the cage looking as though he has just experienced nothing more than a brutally hot shower.
The wrestler Rashad Evans was supposed to have been the one to drop some reality into Machida's aspirations -- get rough inside and maybe send them both flying to the canvas -- but it didn't happen. (He went to the ground, but Machida didn't follow.)
The winner: Machida via knockout.
The lesson: Traditional arts have their place in prizefighting, and the sport is always -- always -- evolving. Saturday's event, like every show before it, will be less a matter of who won and more an examination of what's changing. UFC 100 will look nothing like UFC 50; UFC 200 will look nothing like UFC 100. This is combat Darwinism at $44.95.