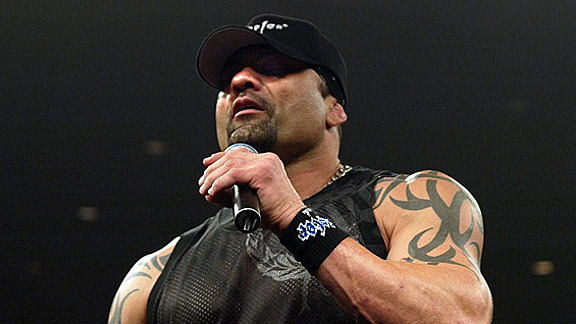 Sherdog.com
When he wasn't in the cage, Kimo Leopoldo had a knack for embarrassing himself.
The conclusion of a series highlighting athletes-turned-promoters. As most of them discovered, the real ugly business takes place outside the ring.
Kimo Leopoldo
Résumé: Hulking street fighter who became the first man to make Royce Gracie look human (UFC III, 1994); notoriety from that fight fueled uneven fight career through 2006; suffered a controversial arrest for possession of methamphetamine, which was later reduced to three misdemeanor charges of marijuana and paraphernalia possession, accusations he still denies.
Brand: New Era Fighting, a hybrid pro wrestling/MMA show initiated in 2006; barked about a $1,000,000 "tough man" event and team tryouts; sued the California State Athletic Commission for $500,000,000 (yes, nine zeroes) over claims it interfered with said tryouts; Leopoldo then offered to assume the role of the state's executive director after Armando Garcia was ousted. Right.
Evaluation: Press releases: dozens. Shows promoted: zero.