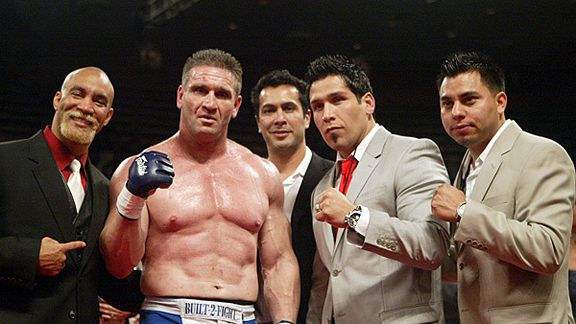 Sherdog.com
Ken Shamrock has been a danger mostly to himself since donning a promoter's suit and tie.
Continuing a weeklong series on fighters who traded in their gloves for a promoter's license, with mixed results.
Ken Shamrock
Résumé: Media-labeled "Most Dangerous Man in the World," a title held long past its expiration date; UFC 1 entrant who drew attention and ratings as late as 2006.
Brand(s): The World Mixed Martial Arts Association (WMMAA), a promotion that ran once, in Atlantic City, N.J., in 2001, and featured Shamrock winning a seriously devalued title belt against Sam Adkins; the recently organized Ken Shamrock Productions, which co-promoted a "Valentine's Eve Massacre" event in February. Shamrock, who fought gelatinous Ross Clifton in the main event, tested positive for illicit performance-enhancing substances and was suspended for one year.
Evaluation: For a guy with the power to veto his own matchmaking, the Clifton bout -- which resembled a banned and maliciously produced episode of "The Biggest Loser" -- was the lowlight in a career that has had no shortage of valleys.