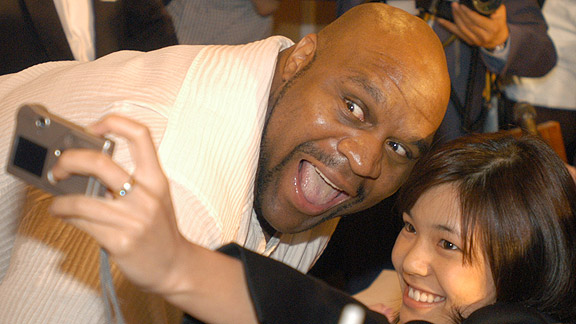 AP Photo/Koji Sasahara
Larger than life: Japanese fight fans couldn't get enough of Bob Sapp.
The irony of Fedor Emelianenko's longtime (and now rapidly dissolving) contract controversies -- huge salaries, promoter concessions, renegotiating -- is that his status as a box office attraction never really warranted it.
When Emelianenko was given the broadest possible platform to perform in a November 2009 CBS fight with Brett Rogers, it became only the eighth most-viewed MMA fight in North America. When M-1 stuck a hose in Affliction's money tank and siphoned millions, fights against Tim Sylvia and Andrei Arlovski drew only a fraction of UFC events headlined by comparative no-names. Emelianenko has never participated in any of the most-watched fights in Japan -- even though he spent nearly a decade there.
Tweet, tweet
Don't miss a moment of the latest MMA coverage from around the world. Follow us on Twitter and stay informed. Join »
Promoters bought the cachet of owning the world's best fighter, yet no one bothered to stop and think whether that would mean profitability. Emelianenko's management built MMA's only brand that mirrored boxing's model: It was the fighter, not the acronym, that mattered.
There have been few athletes in the sport that don't need a recognizable promotion, whose names alone are good enough to attract a paying audience. (A promoter's nightmare: a self-sufficient athlete who can generate his own income.) Five guys who never got Emelianenko's money but probably deserved to:
Kimbo Slice: Slice's story has been exhausted, but there has been no other combat sports attraction who used YouTube as a promotional entity. When Slice graduated to CBS, his fight with James Thompson became the most-watched bout to date in the States with more than 7 million viewers. None of them watched because EliteXC endorsed it; they watched because Slice has an inexplicable appeal that functions under any circumstances. Even Wi-Fi.
Tito Ortiz: A hypothetical, but one I'm confident in: Like Slice, Ortiz possesses a charisma that heightens audience arousal. (Straight face, please. Thank you.) If he had made good on his threats to port himself over to Strikeforce during a break in his UFC deal, he would have been a legitimate non-UFC attraction and one that would be difficult to counterprogram against.
Brock Lesnar: Granted, Lesnar didn't draw anything but groans when he fought Min Soo Kim in his 2007 debut at a K-1/EliteXC event in Los Angeles. But Lesnar was also curiously reserved and largely ignored by a media that had no idea whether this was a one-off or a real career choice. Today's Brock is an antagonist that could drum up business regardless of whether it was in the UFC, ABC or the BBC.
Bob Sapp: Sapp had the massive K-1 engine running his career for years in Japan, but his audience latched onto the persona he perpetuated with interest far beyond that promotion's ability to generate. He remains the most-merchandised, most-adored and most-watched fighter in the history of the sport. His bullying of Akebono in 2003 was watched by 54 million Japanese, more than twice as many viewers as the U.S. had for this year's "American Idol" finale.
Georges St. Pierre: St. Pierre is still developing as both an athlete and an attraction, but he is essentially what people assume Emelianenko to be -- a dangerous martial artist who attracts attention based on his flawless results. He boasts two of the highest-profile endorsements in the sport -- Gatorade and Under Armour -- and represents the next level of athletic achievement: a contender in corporate America.