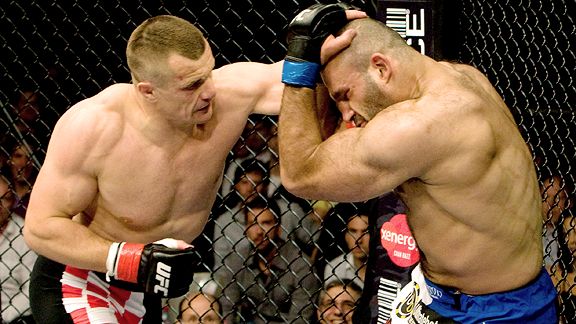 Josh Hedges/Zuffa/UFC
Would instant replay have made a difference in the outcome of Mirko Filipovic's win over Mustapha al Turk?
Old news worth repeating: Nevada State Athletic Commission Executive Director Keith Kizer told MMAJunkie Radio that instant replay could enter MMA before the end of the year.
Dicey proposition. Consider the Mustapha al Turk-Mirko "Cro Cop" Filipovic fight at UFC 99, where al Turk was the recipient of an eye poke. As Kizer explains it, referee Dan Miragliotta could have reviewed footage after the fight had ended and declared it a no contest because al Turk was fouled. But by not catching it as it happens, al Turk was deprived of opportunity to recover and continue and Filipovic -- who might very well have won after the hypothetical timeout -- is robbed of a win.
Sport fight fouls are a problem, particularly groin shots and eye pokes. But they should be addressed with immediacy, not retroactive decisions. Is there truly no modification that could be made to gloves to prevent splayed fingers during stand-up exchanges? More importantly: Should referees who have a track record of poor observational skills be granted continued licensure?