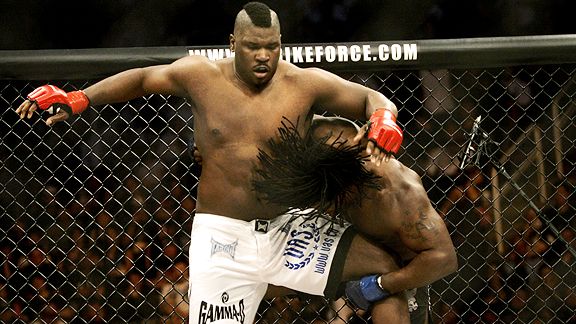 AP Photo/Jeff Chiu
Brett Rogers is steady on his feet, but what if the fight goes to the ground?
His cracking shot to the jaw of Andrei Arlovski still affecting MMA's nervous system, Strikeforce heavyweight contender Brett Rogers could find himself facing champion Alistair Overeem on Aug. 15.
Overeem and Rogers were originally scheduled to meet June 6, but a pay-toilet melee with Holland nightclub bouncers left Overeem nursing a badly infected hand. (My question on the recent rash of fictional news stories: Why bother, when the reality is so much more entertaining?)
What we know: Rogers has the power to turn off anyone's electricity standing. What we don't: His ground game may not be a match for Overeem's, who is surprisingly adept there. If the fight is signed, it'll join the headlining Gina Carano-Cristiane Santos bout -- and the event itself will make a strong case for being one of the most interesting of the summer.