Refresh this page for live round-by-round results for UFC 99 in Cologne, Germany. I'll say it: we're just killing time until Tim Sylvia and Ray Mercer make a little bit of sports history later tonight.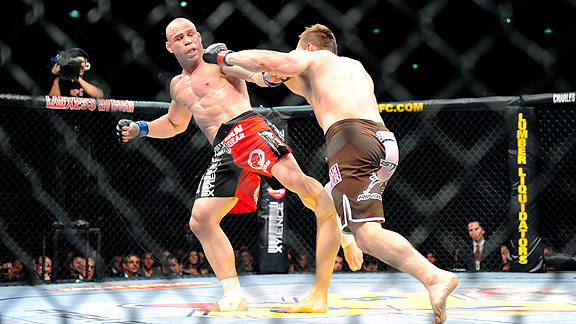 Martin McNeil For ESPN.com
Wanderlei Silva, left, proved he still has some fight left in the tank by taking it to Rich Franklin in a losing effort.
5:50 p.m. ET -- Decision. You hate to see anyone lose a fight like this. Franklin takes it by unanimous decision, but Silva preserves his run at middleweight. Das ende.
5:45 p.m. ET -- Round 3. This fight is evidence that 195 pounds is a generous 10-pound allowance for Franklin and 10 pounds of hell for Silva. Franklin goes low and Silva shakes his cup in protest. Silva incites the crowd to cheer. He's tired, but more aggressive. He pours it on in the last minute, but Franklin scores a takedown, and it could be enough for the round.
Good fight. If Silva can figure out the weight cut, he could be a problem at 185.
5:39 p.m. ET -- Round 2. "I think I broke his nose," Franklin tells his corner. That's a Tuesday morning at Chute Boxe. Franklin looks more comfortable. The exchanges are getting more heated; Franklin dislodges him with a jab.
Wanderlei is fatigued, but he manages to stumble Franklin with a flurry. Franklin's cardio appears deeper.
5:30 p.m. ET -- Round 1. Silva enters looking fittingly simian. He is back with Rafael Cordeiro, his former Chute Boxe trainer: we will see if it makes a difference. In the background, Franklin's wife takes pictures with a digital camera. It may help police positively ID Silva later on.
"Bon dammen neu hierren," Buffer says. Silva KOs him as Franklin gives the thumbs up. The two circle. And circle. And circle. Wanderlei is clearly aware of the career corner he's been backed into.
Silva catches a kick and takes Franklin down and works from guard. The German fans might not like it, but nobody's booing a guy with a tattoo on the base of his skull. In the last 60 seconds, Franklin manages to deliver some damage from up top.
5:11 p.m. ET -- Up Next: Wanderlei Silva versus Rich Franklin. I could bore you with details of the semantics surrounding Franklin's technical and wizened approach to fighting a southpaw -- and really, my mathematical knowledge of pugilism would just embarrass you -- but it's simply easier to say this: Franklin punches down the pipe, and Silva swings like he's wielding a mace. You tell me who has the advantage.
5:10 p.m. ET -- Round 3. Kongo has his last chance to finish on the feet -- and can't do it. More of the same.
Decision: Velasquez. I'm not certain more notice would have helped Kongo, but it couldn't have hurt.
5:05 p.m. ET -- Round 2. Kongo drops Velasquez to a knee for the second time in the fight. Cain has nothing on the feet; Kongo, nothing on the ground -- but 90 percent of the fight is being contested on top of sponsor logos. Kongo's knockout power is severely diminished from the turtle position.
Cain finishes the round in the mount.
4:58 p.m. ET -- Update from Birmingham, Ala.: organizers have approved a 15-minute rest between rounds for Tim Sylvia-Ray Mercer. Documentary crews argue over ringside real estate. Gary Smith has been denied a credential.
Round 1. "Der co-main event," announces Buffer. It is a testament to his mindset that Kongo is not laughing.
Kongo immediately jabs Velasquez into thinking takedown. Cain sinks a deep rear choke, but Kongo rolls out. Impressive, but Cain is still having his way on the mat. If this goes into a second round, Kongo's three weeks of prep might become a real problem. Velasquez scores takedown after takedown.
4:45 p.m. ET --Backstage. Rich Franklin shadowboxes; Wanderlei Silva chases down a live deer and bites into the thigh meat.
Up Next: Cain Velasquez vs. Cheick Kongo. Since low body fat seems to be a popular predictor in fight outcomes, I'll give the edge to Kongo for having more visible striations. But Velasquez, while clearly enjoying his carbs more, can dictate where this fight takes place. And if Kongo hasn't solved the problem of being ineffective and immobile off his back -- his downfall in the Heath Herring fight -- he's going to be on a steady diet of leather.
4:35 p.m. ET -- Round 1. "I don't know if I will take the UFC title, but I will die trying," Filipovic says. I try not to be a sucker for prefight dialogue, but it's hard not to believe him. As he walks in, a fan rubs the top of his head. He will never make it home.
Al Turk comes out strong. Filipovic's thighs are nearly as big as Tyson Griffin's. He seems content to slip out of the way, but not retaliate. But not for long: he swarms al Turk, lands flush shots, and finishes with al Turk slumped against the fence. There will be some controversy, as Cro Cop appears to have poked him in the eyes, but things were not looking good for him prior.
"I am satisfied with my performance," Filipovic says. He asks Rogan for the microphone to address the crowd, a request normally declined due to time issues. It is a testament to Filipovic that Rogan doesn't hesitate in handing it over.
4:28 p.m. ET -- Up Next: Mirko "Cro Cop" Filipovic vs. Mostapha al Turk. Filipovic, 1-2 in his first and only UFC run, tried hard to convince media in the past week that he wasn't "smelling the blood," a fairly disgusting metaphor for an otherwise literate and polished sporting activity involving repeated kicks to the head. There was a time when "Cro Cop" was an absolute savage -- someone who made Wanderlei Silva look like a Bible salesman. That man is sorely missed. I have not seen anything from al Turk to convince me he can handle even a sedated Mirko, though. Filipovic will win, but whether it's by humdrum stoppage or homicide will determine how excited we can all be about his return.
4:20 pm. ET -- Round 2. Saunders launches those Plastic Man legs at Swick, but to little effect. I think we've learned that Saunders is seriously outclassed. He cannot keep Swick off of him. Saunders thinks about the rubber guard, which German fans will no doubt recognize and appreciate. (In 2017.)
Swick finally strikes a match and unloads a barrage on Saunders, the last of which forces him to go limp.
4:15 p.m. ET -- Round 1. Saunders enters looking extremely caffeinated. Rogan mentions Saunders is eager to fight Anderson Silva. Jumping into an empty pool would produce similar results for less trouble. Swick, says Rogan, "is not an ass." What a ringing endorsement.
Saunders goes for a clinch but winds up working guard, holding on tight. "Are you going to hold me all night?" Swick asks. "We can stand back up …" Saunders responds. Actual exchange. It's the most entertaining moment of the fight thus far. With 90 seconds left, the referee stands them up. Saunders tries another takedown. He apparently wants no part of anyone nicknamed "Quick" on the feet. Pretty plodding round.

4:10 p.m. ET -- Up next: Ben Saunders versus Mike Swick. Easy fight of the night material: long and lean, both men resemble a jumble of knees, elbows and bony torsos. Swick has fought better competition, but Saunders is evolving rapidly -- from an "Ultimate Fighter" runner-up to someone who clearly enjoys learning new ways to hurt people. Swick has gone the distance in four of his past five fights, but five of his UFC wins have ended in the first round. Expect cuts and broken ribs. And for the loser, worse.
4:05 p.m. ET -- Decision. Unanimous decision for Fisher, presumably for more damage delivered. Not a fight likely to show up on any "best of" shows.
4:01 p.m. ET -- Round 3. "The folks in Germany are getting upset," Rogan says, and doesn't take his own bait. This was not the sausage festival they had signed up for. Both men look relaxed. Fisher lands a cracking left that sounds like a clapboard. Uno digs deep for a leg. How someone can be so talented and so ineffective is food for thought. He hasn't marked Fisher up at all, but he's constantly trying to contort him. Uno finishes strong from the mount. Are the judges German?
3:56 p.m. ET -- Round 2. Fisher doesn't seem intimidated by what faux-Welling has brought so
far: Uno scoops up both his legs, but Fisher stands up with ease. Uno is so technically articulate that he probably fights best against other erudite Japanese, not some ornery bruiser from Carolina. He spends some time in Fisher's guard, but doesn't get anything done.
Germans boo the lack of viciousness. Uno pulls guard, just to mess with them.
Close round, but probably owned by Uno due to control.
3:51 p.m. ET: Round 1. Uno's haircut appears courtesy of a window fan. He seems excited to be back in the UFC, but his pre-"Ultimate Fighter" appearances might as well be from the Paleolithic period in MMA circles. I might have missed it, but he didn't do his customary tranquilizer-dart flop to the mat. Could be a bad omen. But Arianny Celeste looks excited to see Kid Yamamoto in action.
After an endless 50 seconds of inactivity, German fans get irritable. I'm shocked at their lack of tolerance. The fighters spend most of the round clinched or bouncing aggressively. A difficult round to score.
3:41 p.m. ET -- Footage from backstage. Mirko "Cro Cop" Filipovic is seen sparring; opponent Mustapha al Turk practices hopping on a stretcher and eating through a tube.
Up Next: Spencer Fisher versus Caol Uno. Uno has a Nike endorsement deal in Japan; Fisher could be sponsored by Skoal. In addition to contrasting personalities, Fisher's aggression may not be good for Uno's more mature style. Also, Uno looks like an anime version of Tom Welling. I've wanted to point that out for a long time. He will probably lose.
3:35 p.m. ET -- Decision. Split decision for Hardy. Davis ignores Hardy's attempt to mend fences with a handshake. "Marcus is one of the toughest guys in the division," Hardy says. "… it was psychological stuff …" Right on cue.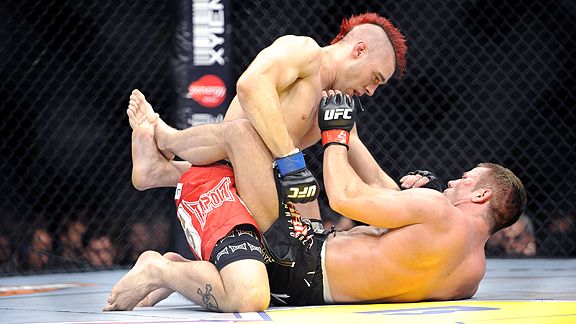 Martin McNeil For ESPN.com
Dan Hardy, top, backed up his talk with a convincing win over Marcus Davis.
3:32 p.m. ET -- Round 3. Davis takes his corner's advice to "shut his mouth" literally and lands a straight left -- left straight? -- right to Hardy's grill. Incredibly, Davis tries a heel hook and a kneebar, a curious strategy for a sweat-drenched third round. There's a cut stoppage for Davis, who recently had scar tissue removal surgery -- but it's on the bridge of his nose. Judges love to see blood, though, and between the plasma and hematoma, Davis looks like he ate a shovel to the face. Terrific fight. Hardy likely to get the decision.
3:26 p.m. ET -- Round 2. Hardy's training with Freddie Roach is paying dividends: Davis looking increasingly frustrated that a guy with a haircut that would get Hardy gang-beaten in Boston is getting the better of him. Hardy lands a huge knee and picks two incisors out of his kneecap. Davis spend several minutes on his back before landing a takedown, but 20 seconds isn't enough time to exact any vengeance. They're probably tied at a round apiece.
3:20 p.m. ET -- Round 1. Bruce Buffer gives us all chills -- and you know exactly the kind I mean -- by addressing the crowd in German. I'm really not sure why Hardy decided to pick on Davis. Bullying is usually only advisable when you stand a good chance of beating up the other guy. And Hardy really doesn't: Davis spends the first two minutes manhandling Hardy to the mat. Now the guy you've spent three months insulting is in full mount.
But Hardy keeps his composure, gets up, and lands a loud right hook that makes Davis loopy. I think they still hate each other.
3 p.m. ET -- Up Next: Marcus Davis versus Dan Hardy. Davis and Hardy clearly feel they'll operate best if the detest one another: the months leading into this fight have been preliminary round after round of spoken-word venom. Somehow, Davis' 8-2 UFC record -- among the best in the promotion -- has gone ignored. My only prediction is that both men will hug afterward and declare the prefight vitriol "just business." And then we'll all feel pretty damn gullible. Again.