If you've thought the UFC had everything but a crowd chanting "Get a room!" in German, has the promotion got a treat for you. Organizers take the event to Cologne, Germany, for the first time and fans there have every reason to be excited: In addition to a main event that's as good a guarantee of violence as a World Cup soccer game, two heavyweights will help determine the future of their division.
Enjoy. Oh, and "bekommen sie ein zimmer." (That's get a room in German).
What: UFC 99: Franklin vs. Silva
When: Par-per-view, live Saturday at 3 p.m. ET (replay at 10 p.m. ET)
Why you should care: Because heavyweight Cain Velasquez may be the UFC's own Fedor Emelianenko, a man who has a vicious ground game and takes morbid delight in pushing noses into teeth; because Wanderlei Silva has never backpedaled in his fighting life; because Mirko "Cro Cop" Filipovic, like Mike Tyson and Vitor Belfort before him, could make a widow of any opponent's wife at any time.
Fight of the night: Velasquez's meeting with Cheick Kongo, a likely stand-up affair with two guys holstering so much power they might as well be swinging hammers in the ring. One and done.
Sleeper fight of the night: Ben Saunders versus Mike Swick, a meeting between two lanky strikers who will drive knees into each other's unpadded midsections. Lots of hurt in this one.
Pre-emptive complaint: Franklin-Silva, while certainly intriguing, will take place at a 195-pound catchweight rest stop for both men. It's a good way to excuse a loss -- either Franklin is fighting too light or Silva too heavy -- but it's also a bizarro oddity that can't really have any implications at either 185 pounds or 205 pounds.
Hype quote of the show: "I have the best motivation. I want to return to the top and prove everyone wrong. I hope God will give me the strength to prove my worth. I don't like to talk too much about it because I have to prove my worth in the cage and that's what I intend to do … I've never been motivated like this." -- Mirko "Cro Cop" Filipovic
Five questions: UFC 99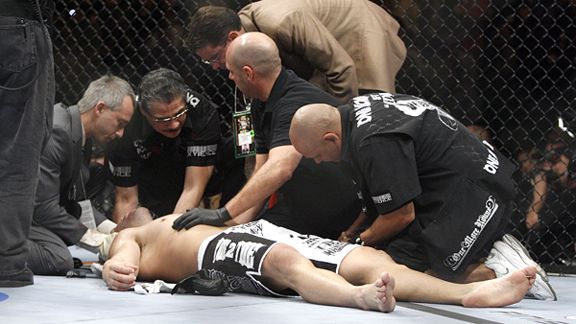 AP Photo/Eric Jamison
Another ending like this and Wanderlei Silva will have no choice but to call it a day.
Because we're paying $44.95 for answers -- more if they come in high definition.
Has "Cro Cop's" new knee made him a new man?
Filipovic entered the UFC in 2007 with the reputation of a very dangerous man who engendered sympathy for his opponents. He exited that same year engendering sympathy only for himself.
He went 1-2, beating only a low-watt Eddie Sanchez before losing to Cheick Kongo (by decision) and Gabriel Gonzaga (knocked into oblivion). After mixed success returning to Japan, Filipovic underwent knee surgery to repair nagging injuries. He now claims to be as motivated and capable as when he pillaged a Pride open-weight tournament in 2006. We'll see.
Has Wanderlei Silva's chin retired?
There are two athletes who have gone by the charming "Axe Murderer" handle: One wiped out the entire island nation of Japan and was responsible for more blood loss, pint for pint, than a year's worth of chainsaw accidents; the other one emerged in 2006 after being high-kicked into catatonia by Mirko Filipovic. He was then knocked out by Dan Henderson, battered against Chuck Liddell, knocked out by Quinton Jackson -- a man he had defeated twice before -- and owns only one win in three years.
I fear the latter has taken up permanent residence in the Octagon. Silva is so tough, but so battle-worn, that his body may be trying to tell him that enough is enough. There is no concrete evidence that getting knocked out makes one more susceptible to subsequent knockouts, but there is circumstantial footage -- and the common-sense observation that, if going unconscious is the body's way of shutting down as a protective measure, it would do so with more urgency the more concussive punishment it receives.
Franklin is not a knockout artist. If he's able to dim Silva's lights, it may be time to admit the wiring is permanently disabled.
Is Cain Velasquez as advertised?
The 240-pound Velasquez is described as nothing less than demon-spawn by training partners and coaches. "The future of the heavyweight division" is an inexhaustible label. It is easy to forget he's only 5-0.
Cheick Kongo -- long, lean, with great knees and sharp punching -- will easily be his biggest test to date. On paper -- which usually condemns more than promises -- Velasquez can control and pummel Kongo on the ground, and perhaps land a big shot standing. It's what he's been doing. But previous opponents have been outclassed athletically and emotionally; Kongo won't be.
We've seen hot prospects get hyped to the gills before, only to fold under pressure. Cain is on the burner here.
How far can Ben Saunders really go?
A Season 6 participant on Spike's "The Ultimate Fighter" breeding kennel, Ben Saunders was not expected to make any sizable impact in the welterweight division. Not that he was unskilled -- just that he looked average. And at 170 pounds, average is as good as dead.
After losing in the show's quarterfinals, he buzzed off three consecutive victories. The last, against Brandon Wolff, was a clinic in the Thai clinch, with Saunders using his frame and reach to lump Wolff up. Now he faces Mike Swick: If there's any better gauge of Saunders' evolution at American Top Team, this is it.
How will Germany receive the UFC?
Germany has long had a superiority complex, so it's little surprise that their media has met the UFC's arrival with a healthy amount of snobbery: Minors have apparently been banned from attending and TV deals that once looked concrete now appear shaky. Postfight reaction might go a long way in indicating whether the promotion will bother for a return engagement -- or if the passion of the sport's fans can overcome political smothering in much the same way it did in the States.
Back Against the Mat (BAM): UFC 99 edition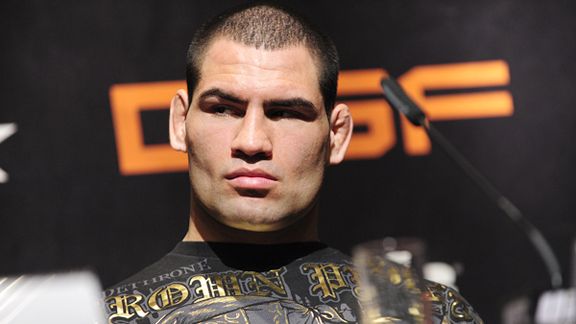 Martin McNeil for ESPN.com
Feeling the pressure? In just his sixth pro fight, Cain Velasquez will take on veteran Cheick Kongo.
Stakes are always high in prizefights, but for some more than others.
Wanderlei Silva. A fifth loss in six fights would bring talk of retirement -- already a low murmur -- to a chorus. He at least needs a competitive distance battle with Franklin to retain fan faith.
Cain Velasquez. Big paydays against big names -- Frank Mir, Brock Lesnar -- are right around the corner for Velasquez if he can get past Cheick Kongo. A collective deflation for his supporters and his next-big-thing status is queued up if he can't.
Mirko Filipovic. He'll always have a home in Japan, but the UFC may have an extremely hard time justifying his presence in future shows if he can't beat Mustapha al Turk.
Paul Taylor. The Brit is 2-3 in his UFC run and the cuts have been coming at a chef's speed.
Marcus Davis and Dan Hardy. The two have been engaged in an extended line-crossing match for months. Losing stinks. Losing to a guy who's talked a dumpster's worth of crap stinks more.
Red ink: Silva versus Franklin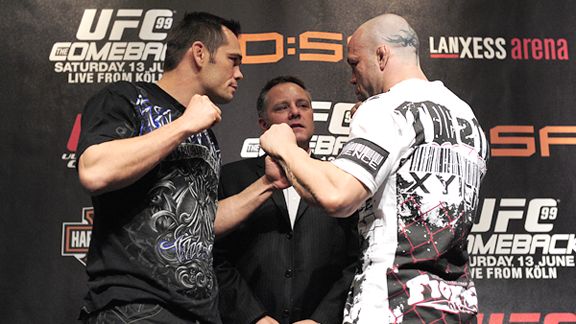 Martin McNeil for ESPN.com
Wanderlei Silva, right, will have his hands full against Rich Franklin on Saturday.
Haven't we all wondered what would happen if a caveman got into a fight with a high school math teacher? And isn't it time we found out?
Silva will be looking to stall a career slide Saturday when he faces former middleweight champion Franklin in a 195-pound catchweight bout. His brawl-and-maul style is in interesting contrast to Franklin's slightly more conservative, academic approach. Silva is probably a fair amount better on the ground, but could have trouble keeping it there. Franklin's chin is unquestionably in better shape. Silva is 32. Franklin is nearly 35. It's impossible to believe.
What it means: For Silva, a chance to enter the middleweight division with renewed momentum; for Franklin, a decent check. Beating Silva doesn't hold the cache it used to.
Third-party investor: Anderson Silva, who could see a big fight with former training partner Wanderlei on the horizon -- especially if potential contender Michael Bisping loses a July fight with Dan Henderson.
Who wins: Franklin. Silva's Jurassic attack worked when he could eat big shots, but that doesn't appear to be the case anymore.
Red ink: Velasquez versus Kongo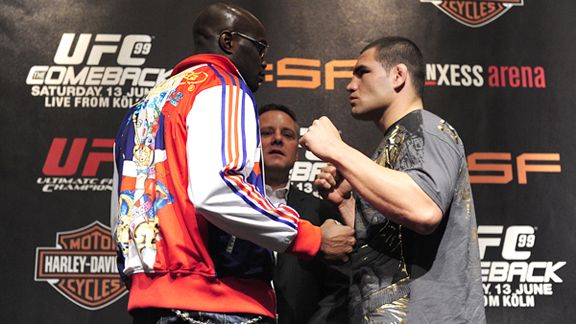 Martin McNeil for ESPN.com
What can you expect when Cheick Kongo and Cain Velasquez meet Saturday? Fireworks, for one thing.
Velasquez has logged less than three years and only five bouts as a professional, but he'll enter the Octagon Saturday as a favorite over 19-fight veteran Kongo. Why? More tools in the shed. If he's in trouble standing, he can take it to the mat, where others have controlled Kongo before.
But pressure can make men out of monsters. Kongo is a brick with arms; his ground game is much improved since a decision loss to Heath Herring; and he has knees exactly as damaging as you'd expect from a 6-foot-4, 230-pound kickboxer. Whoever wins is still likely to see a doctor.
What it means: A chance to take a bite out of the UFC's heavyweight champion.
Third-party investor: The winner of July's Lesnar-Mir fight. Velasquez would give either one of them fits.
Who wins: Velasquez. Kongo is taking the bout on a few weeks' notice, which is ill-advised at this level and with this much on the line.