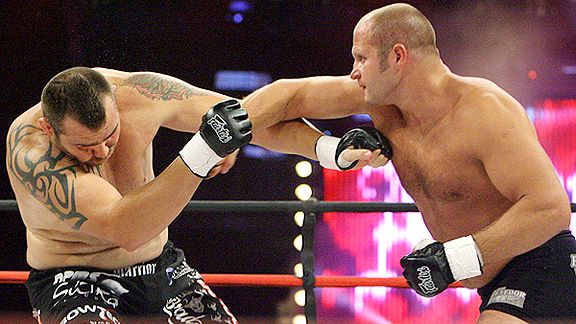 Sherdog.com
Tim Sylvia, left, could wind up in a world of hurt if he underestimates Ray Mercer.
Validating what we've thought since this bout was announced, Jens Pulver tells Cagewriter that Tim Sylvia could be making a big mistake against Ray Mercer in a Birmingham, Ala., boxing match Saturday.
"I think they're taking this as sparring, and they're going to find Mercer probably isn't taking this as a sparring bout," Pulver said. "I don't care how old Ray Mercer is, you don't win a world title unless you can thump. He's not to be messed with."
At 48, Mercer would appear to be at a significant disadvantage to Sylvia, 33. Fortunately for him, Sylvia is not what anyone would describe as possessed of any blinding speed. He has reach, but I don't think his agility or his hands pose any real danger of overwhelming any seniors. If a 44-year-old Randy Couture can outbox Sylvia, so can Mercer.
The Association of Boxing Commissions would prefer we not find out, though: The organization has circulated a news release declaring the bout "unwarranted and illegal." (The New Jersey Athletic Commission turned down the bout in March, and it appears the ABC considers Alabama's lack of a sanctioning body to be a condemning circumstance.) According to an admittedly suspect source -- Tim Sylvia's MySpace page -- the fight may be changed to an MMA rules competition to circumvent the hassle.
What a headache. The Birmingham-Jefferson Convention Complex, site of the event, seats 19,000. Good luck on that one.