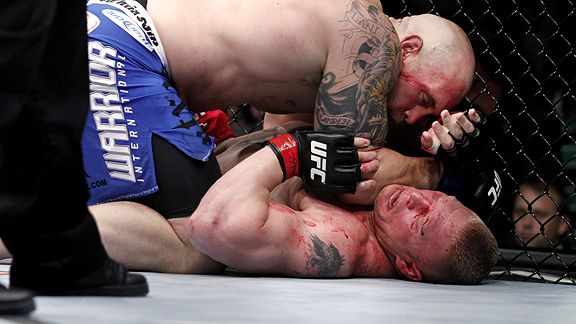 Ric Fogel for ESPN.com
As much as we'd love to see Brock Lesnar back in action ASAP, the man has earned a break.
One of this sport's biggest buzz kills is the interminable downtime between fights at the top level. Georges St. Pierre, despite escaping a March bout with Dan Hardy injury-free, won't fight again until December at the earliest; Mauricio Rua will be out almost a year because of his knee issues. Whether business or blood is to blame, it's an ordeal to set up bouts. If you enjoy watching an athlete in MMA, you're lucky if you see him for 20 to 60 minutes a year.
Tweet, tweet
Don't miss a moment of the latest MMA coverage from around the world. Follow us on Twitter and stay informed. Join »
The idea of Brock Lesnar making a quick return from his UFC 116 win over Shane Carwin and defending his title against Cain Velasquez in September is a nice change, but it could come at the expense of Lesnar being in top shape. He would have to return to a training camp almost immediately. It's a schedule that partly owes to the UFC's wanting a main event for a trip to Indiana (near Lesnarville), Brock's wanting a busier schedule and Velasquez's having been wrapped in protective packaging since securing a title shot with a win over Antonio Nogueira in the spring.
But Velasquez isn't an opponent to take a rushed or casual approach to. An athlete such as Chris Leben can work a four- or five-fights-per-year schedule because he has less to lose: He has the reputation of a gamer, one that will only be shined by staying busy.
Lesnar, on the other hand, is a major attraction who's busy building a legitimate heavyweight legacy. If he loses to Velasquez, the Sunday morning editorials are already written: Brock tried to do too much too soon. It's one of the few times I'd hope a fighter takes it easy. The performance he turned in this past Saturday is the kind that should earn you a few weeks in a recliner.