As much as I find that professional wrestling and acid reflux walk arm in arm, I will give the enterprise this: Wrestling actually treats its manufactured titles with respect. Strikeforce does not.
[+] Enlarge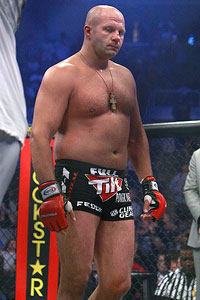 Dave Mandel/Sherdog.com
Fedor Emelianenko may not deserve a title shot against Alistair Overeem, but that hasn't stopped Strikeforce in the past.
Scott Coker, the promotion's CEO, appeared on Sherdog.com radio last week and speculated that the reeling Fedor Emelianenko could fight champion Alistair Overeem next. This is the same Emelianenko who lost in just over a minute on a triangle choke orchestrated by Fabricio Werdum. Although I would like to say that Werdum crafted a flawless and strategic trap, he simply opened up his legs and let Emelianenko dive between them. Using this logic, the Russian should hope he never drops his car keys in the middle of a bear trap.
Strikeforce has a decision to make: Either the belts it promotes and assigns importance to are legitimate, or they aren't. For Overeem to spend two years out of the promotion and then fight Brett Rogers immediately after Rogers loses to Emelianenko is Moe Howard stuff. To deliver Overeem a second consecutive contender who lost his previous fight is entering Curly territory.
The match would also violate a key tenet of promoters who don't enjoy the smell of burning money: Make marketable matches as soon as humanly possible; don't put them off for any reason. Emelianenko-Werdum has the potential to be a viable CBS attraction, but its appeal goes out the door the second Emelianenko or Werdum loses to Overeem.
Ideally, Emelianenko would fight Antonio Silva and Overeem would fight Werdum, with the winners squaring off -- preferably on the same night. It's a stunt, but then again, so is much of what Strikeforce does. I'd watch it, and so would you.