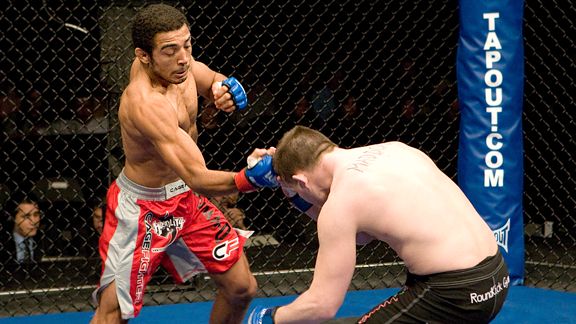 Courtesy Josh Hedges/Zuffa/UFC
Jose Aldo can make a case for himself as a legit challenger at 145 with a win on Sunday.
Hoping the WEC will do for the network what the UFC has done for Spike -- namely, making it a destination for nerdy males 18-34 everywhere -- Versus will broadcast a pay-per-view-worthy main event Sunday from Sacramento, Calif., when former champion Urijah Faber meets bigger, meaner Mike Brown in a rematch.
Any time the world's best fighter at a given weight gets sorted, it's worth watching. Print out this primer, memorize it and then use it as a wings bib at your local sports bar.
What: WEC 41: Faber vs. Brown II
When: Versus, Sunday, 9 p.m. ET
Why you should care: Urijah Faber may be the world's best 145-pound athlete not named "Mike Brown." A 2008 fight between the two ended when Faber went for a bizarre spinning elbow, lost his composure, and was promptly torn apart like a gazelle. With his head screwed on right, can he find an answer for Brown's power and tenacity? And after having mixed results at 155 pounds in the UFC, can stout Armenian Manny Gamburyan find a good home at 145?
While that's all going down, Jose Aldo (14-1) will continue to promote speculation that he could be a 145-pound Brazilian terror on the level of Anderson Silva when he tackles Cub Swanson (13-2).
Fight of the night: Undoubtedly Faber-Brown, which mixes in high stakes -- the title of world's best 145-pound fighter -- with an electric rivalry.
Sleeper fight: Lightweights Frank Gomez and Noah Thomas, with both men finishing 19 of their 20 collective wins inside the distance. Watch carefully and you might notice judges getting up for a bathroom break.
Pre-emptive complaint: 1-3 in his WEC bid, Pulver is getting prime-time real estate over arguably younger, better talent on the undercard.
Hype quote of the show: "I've gotten my ass whipped and taken my fair share of beatings … in one of my amateur fights I got pinned against the cage and I took 37 unanswered blows to the face before I got him in a triangle and won." -- James Krause, perhaps not realizing sustaining abuse isn't an enviable trait.