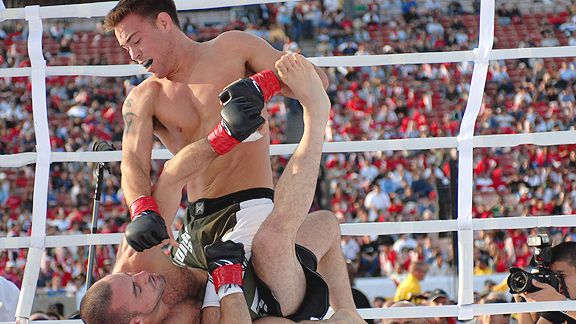 Bob Riha Jr/WireImage
No one questions Jake Shields' wrestling credentials, but he'll be hard-pressed to keep Robbie Lawler on the ground.
Jake Shields deserves additional respect this weekend. Not only is he climbing into a cage for a prizefight, he'll be doing it against a slab of concrete in Robbie Lawler.
Lawler, only 27, made his pro debut nine years ago. He has grown up in the sport, is big and getting bigger. He hits hard enough to be the only guy in Frank Trigg's 12-year career to knock him out. If Shields can't get him down, he's in for a long night.
What it means: For Shields, a chance to test the waters against one of the stronger middleweights on the market. For Lawler, little else beyond a payday. Shields, the "smaller" fighter, will be seen as physically underprivileged.
Third-party investor: Nick Diaz, who might reconsider his options at middleweight if training partner Shields sticks around there.
Who wins: Lawler can be finessed on the ground, but Shields isn't strong enough to keep him there. He'll survive, though. Lawler by decision.