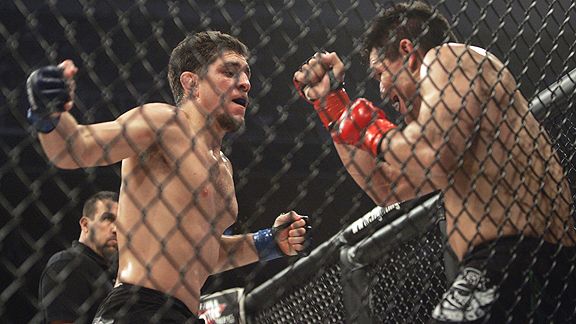 AP Photo/Jeff Chiu
Expect Nick Diaz, left, to swing for the fences when he meets Scott Smith.
Some fighters have more to lose than money. This weekend's biggest risk-takers:
Nick Diaz (Strikeforce)
A win against Scott Smith validates a move to middleweight and leads to potentially bigger, CBS-fueled paydays against the likes of Robbie Lawler or, even better, Cung Le. A loss smothers the memory of the win over Frank Shamrock and could send Diaz back to a less profitable welterweight division.
Andrei Arlovski (Strikeforce)
There's no upside to bringing it against a game newcomer. If Arlovski beats Brett Rogers, he damn well should have. And if he doesn't, he'll be dinging his reputation as heavyweight royalty.
Phil Baroni (Strikeforce)
A famously uneven career has been updated with three straight wins at 170 pounds. If he can't beat journeyman Joe Riggs, the only move left is to harvest some organs and make 155.
Urijah Faber (WEC)
Could wind up in a seriously awkward gatekeeper position if he can't get a fight going with Mike Brown.