Have any two men been regarded as the elite of their division with the limited playing time of Brock Lesnar and Shane Carwin?
Lesnar, with a blip of a career at 4-1, is a monstrous man with a peculiar body type -- long arms, barrel chest, explosive lower body. He deformed and inflated Frank Mir's face with the rapid onset of an allergic reaction. He's a terrifying human being. Worse, he knows it.
Carwin, 12-0 but with only a handful of fights against relevant names, shares Lesnar's big-man athleticism but prefers the controlled demolition of the stand-up game. The four minutes Carwin spent against Mir represent the longest fight of his career: Despite competing for five years to Lesnar's three, Carwin has logged only half as much time in the cage.
You can be one of two minds on this kind of limited exposure: Either Lesnar and Carwin are so destructive and devastating that we've seen all we need to see, or neither man has been in the cage long enough for observers to really understand what they're able to offer.
Lesnar has gone three rounds; Carwin hasn't. Carwin has overcome adversity, recovering from a knockdown by Gabriel Gonzaga; Lesnar hasn't been in any real trouble since his loss to Mir. It's Mir who could be considered the biggest win for both, and he has traditionally shown horrific defense from off his back.
The assumption is that both men are simply too big for the division, and that their size and power automatically make them a favorite in any bout they're in. But as Heath Herring showed, when Lesnar gets you to the ground, it isn't an automatic trip to the hospital; Gonzaga hinted that Carwin's chin can be cracked. What else don't we know?
Saturday's winner will be declared the best in the class. After Fedor Emelianenko's implosion Saturday, that's probably accurate. But unlike the elite in other divisions, we really have very little idea of their all-around skills. Odds are that Saturday's fight won't last long enough to change that.
What: UFC 116: Lesnar versus Carwin, an 11-bout card from the MGM Grand in Las Vegas
When: Saturday at 10 p.m. ET on pay-per-view, with a live prelim show at 9 p.m. ET on Spike
Why you should care: Because Lesnar-Carwin, for all the question marks surrounding both men, is still the most intriguing heavyweight fight in the promotion's history; because Chris Leben could make a small history note by becoming the first fighter to come off a two-week layoff and take a win over a very respectable opponent in Yoshihiro Akiyama; and because the mid-tier names of the undercard -- including Stephan Bonnar, Chris Lytle and Matt Brown -- can fight without worrying about protecting reputations.
Fight of the night: Lesnar-Carwin threatens to be quick and violent, and possibly anticlimactic as a result; George Sotiropoulos is so busy on the ground that he and Kurt Pellegrino could have the most exciting 15 minutes of the night.
Hype quote of the show: "I got a few cheap beers, was stopping to get something to eat and some crackhead was selling videotapes. He said, 'I'll sell you five tapes for two, three dollars.' I took [one] tape home and I watched it and I saw Royce Gracie messing people up." -- Debuting David Branch on his early inspiration, to UFC.com.
Five questions: UFC 116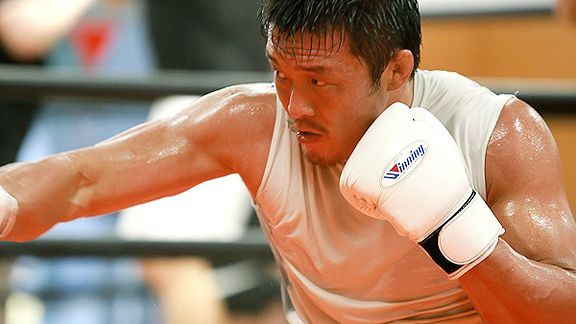 Taro Irei /Sherdog.com
Yoshihiro Akiyama could find himself on his back if he underestimates Chris Leben.
Q: Is Lesnar ready for Carwin?
A: Lesnar, who cancelled a November fight with Carwin because of a stomach illness, has spent a total of 12 months out of action. While there's always an exception to every rule, most fighters traditionally suffer from inactivity -- and Lesnar doesn't have experience to fall back on.
Q: Can Carwin survive on his back?
A: Carwin, a solid Division II wrestler, hasn't been forced to scramble too often in his career: While he got up from Gonzaga's top position, Gonzaga's pressure compared to Lesnar's is like a mechanic's jack failing on a Miata compared to an eighteen-wheeler. But if Carwin can tie up Lesnar and draw out the ground game, he'll have multiple chances to connect on the feet.
Q: Is Akiyama psyching himself out of a win?
A: Akiyama expressed disgruntlement at original opponent Wanderlei Silva being traded for Leben, a lesser name though no less dangerous a threat. If Akiyama's lack of enthusiasm infects his performance, Leben could brawl his way to a win. Unfortunately for the UFC, Leben is far less of a draw in Korea.
Q: Can UFC 116 exceed one million buys?
A: The last time Lesnar stepped into a cage fight, UFC 100 exceeded 1.5 million purchases. While a chunk of that was attributable to co-main attraction Georges St. Pierre and a heavily promoted milestone angle, it's obvious Lesnar brings with him fans from a stint in professional wrestling and the casual fascination that comes with being an enormous and violent man.
If Lesnar can deliver similar business Saturday, it would mark the first time the UFC hosted two consecutive shows that broke the million mark: On the strength of Rashad Evans' and Quinton Jackson's rivalry, UFC 114 reportedly did a seven-figure household number.
Q: Is Bonnar's tenure about to run out?
A: Bonnar, who rematches Krzysztof Soszynski on Saturday, has dropped his last three fights and hasn't had his hand raised in nearly three years. While both Bonnar and Forrest Griffin have been regarded as fireproof because of the 2005 war that brought the UFC into profitability for the first time in a decade, there's something conspicuous about scheduling regular beatings. If he can't hang, he can't hang.
Red Ink: Lesnar versus Carwin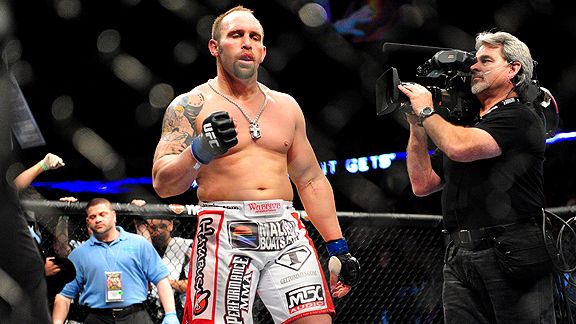 Martin McNeil for ESPN.com
Shane Carwin is no cakewalk for a prime opponent, let alone one on the comeback trail.
Lesnar can look forward to an extremely tense two to five minutes on Saturday: The UFC heavyweight champion has been out of commission for nearly a year after suffering from diverticulitis, an intestinal ailment that produces pockets in the colon. (Despite my falling short of a medical degree, I can safely say colons are not supposed to have pockets.) When he re-acclimates himself to the stress of a real fighter trying to really take his head off for real money, he'll be doing it in front of Carwin, a proven spoiler who doesn't bother with a warm-up lap.
If Lesnar has to take his time adjusting, Carwin will probably smash him senseless. If he botches a takedown attempt, Carwin will probably make him pay. If he can get past Carwin's violent assault and ease himself into a fight, he stands a good chance of winning. But those first five minutes might as well be five years when you have a 280-pound man in front of you wearing the same five-ounce gloves that punish the 155-pound fighters.
What it means: For Lesnar, a chance to prove his illness didn't turn him into less of a fighter; for Carwin, an opportunity to pick off the only man in the division who can match his power and sun-blocking presence.
Might look like: A National Geographic special.
Who wins: A year away from competition and then immediately meeting the most dangerous man possible is not the ideal. Unless Carwin panics from off his back, he should have the ability to avoid getting stamped out and create opportunities to box Lesnar into a very depressing postfight party. Carwin by KO.