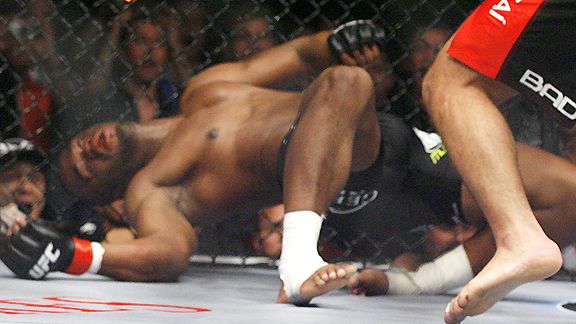 Ric Fogel for ESPN.com
Rise and shine, Rashad Evans: It's time to coach Season 10 of "The Ultimate Fighter."
The logistics of this one could get interesting: USA Today reports that Season 10 of Spike's "Ultimate Fighter" series will feature Quinton "Rampage" Jackson making his sophomore coaching effort and TUF Season 2 alum Rashad Evans filling the opposing slot. Filming is slated to begin next week.
You'll recall that Jackson turned down a May meeting with Evans because of jaw surgery after earning the shot by defeating Keith Jardine in March. Replacement Lyoto Machida went on to defeat Evans via the improbable return of karate as something other than fuel for Ralph Macchio's residual checks.
Most assumed Jackson would be next for Machida, but that doesn't appear to be the case. With Jackson filming, Mauricio "Shogun" Rua has apparently agreed to step in against Machida in October.
Expect Jackson to take some heat for his seeming reluctance to jump in against Machida right away. But as reality melodrama goes, Evans-Jackson is about as good as it gets. Machida's mystique has marketing potential, but until his English becomes conversational, he's probably not ready for prime time. Whether that decision was Machida's or the UFC's is of great interest to me.
The new season premieres Sept. 16.